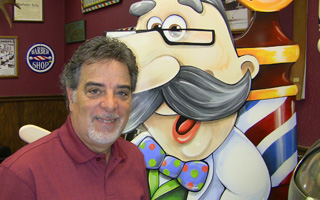 To understand the success and the 15-year celebration of Tarrytown's Barber Pole is to understand the background of its principal owner, John Vaccaro. A former hair stylist at Bergdorf Goodman as well as Lord & Taylor, and a former Vice President of Adam & Eve salons throughout Westchester, Vaccaro has travelled extensively in Asia and in Europe men's haircut exhibitions and seminars. He has also appeared numerous times on the QVC network to promote special scissors and combs that he designed and trademarked. It was this creative flair and energy to constantly do something new that propelled him into the venture that ultimately became The Barber Pole.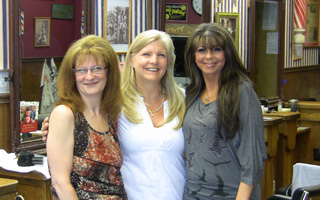 "Years ago I was looking for a new theme for a barber shop. I thought of a sports-related shop first then turned to the golden age of barber shops in the 1880's to 1890's. The reason for the name "golden age" was that all the shops at the time used golden oak. It wasn't until the 1900's when shops changed to black and white colors to give the appearance of sanitation and a more medicinal look," he said.
That initial entry into the history of barbering led Vaccaro to open not only one Barber Pole in Mount Kisco with his partner Enzo Morales but another in Tarrytown, which is celebrating 15 years of operation this summer. With his penchant for learning all that he could about the barbering past, Vaccaro also became one of the biggest collectors of barber memorabilia in the country. From personalized shaving mugs, to razors, barber bottles, chairs, signs and just about anything from the barbering past, Vaccaro sought and secured these items. "I went to barber memorabilia auctions, I bid online at auctions as well and I became known as a serious collector," he said.
Visit here: hair clippers for men.
The collectibles that were displayed in his Barber Pole shops attracted Bloomingdales in Manhattan and Ralph Lauren in Greenwich Village. Vaccaro's memorabilia was used for their window displays while movie companies would rent collectibles from him for their feature films.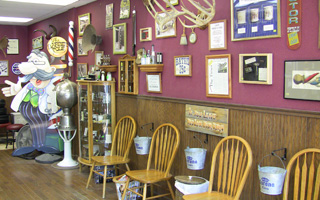 The uniqueness of the Barber Pole also carried over to its staff. "Years ago men needed to make appointments at unisex salons to have their hair cut by licensed hairdressers or stylists. Stylists are totally different from barbers in their hair cutting techniques. What we have done at our Barber Poles is to hire only licensed stylists so that we can give our customers contemporary cuts. Approximately 18% of our clients are women who appreciate that extra degree of skill," he said. Men also appreciate that no appointments are necessary and that the Barber Pole is open 7 days a week. "We are not a frill shop. We put all our skill into doing the haircut and that's where our clients get their money's worth," Vaccaro added. There has been no price increase at the Barber Pole in 5 years and on Tuesdays and Wednesdays from 9 am until 4 pm children under 10 years old and seniors over 65 years old get their hair cut for $14.
In this day and age of impermanence in the job place the Barber Pole has a truly remarkable record. Their staff in Tarrytown have worked together for over a dozen years and that has created a family type atmosphere where clients know the hair stylists and feel comfortable that they will have their hair cut in a personalized manner. The Barber Pole offers return clients a Haircutting Club Card that is punched each time they come in and after 15 haircuts they receive one for free. Cardholders also receive a free service by having their necks cleaned of hair in between haircuts. "You'd be surprised how many people take advantage of that service,"  Vaccaro said. "We are a close-knit family, and thanks to our loyal clients who have supported us, we have returned that support by keeping our prices constant, with all haircuts $17 and our offering of free services." Another of those free services (when requested) is a hot steaming towel. A nice touch and definitely one inherited from the golden age of barber shops.