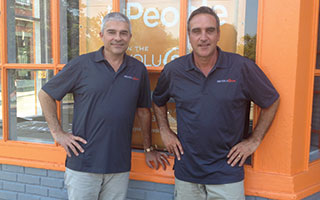 Solar power is expanding in the Empire State with the opening of a new RevoluSun office in Nyack, New York, led by owners Nicholas Grisanti and George Landi. Grisanti, a former successful commodities trader, has a strong background in finance. Landi spent the past two years selling solar systems successfully in New Jersey and prior to that had an extensive career in commercial real estate.
At right, Nicholas Grisanti and George Landi of Revolusun
Committed to empowering the world, RevoluSun makes solar energy affordable and attractive for every homeowner and business. Headquartered in Honolulu with offices in Hawaii, Massachusetts and New York, RevoluSun has developed thousands of photovoltaic systems generating more than 30 megawatts of energy.
"We are so excited to be offering solar systems to the New York market and helping New Yorkers take advantage of some of the best incentives in the Nation," said co-owner George Landi. "New York is poised to become the leader in solar energy over the next few years and we are excited to be part of it with RevoluSun."
Landi lists New York solar incentives as including a 30 percent Federal tax credit, a 25 percent State tax credit up to $5,000, and a utility rebate of $1.40 per watt (DC) up to $9,800 in New York State up to $16,000 on Long Island. Residential solar systems are exempt from New York State sales tax and for 15 years, state property tax as well. Essentially, a solar system in New York will pay for itself within six to eight years.
"George and I are very pleased and excited to open our RevoluSun office in Nyack to serve the Hudson Valley and NYC region," said co-owner Nicholas Grisanti. "When you look at the sun you can see and feel its immense power. Using a streamlined sales and installation approach, coupled with the best cutting-edge technology on the market, RevoluSun will make it easy for our clients to harness that power for use in their homes. I believe there is no better way to get your energy needs but from the sun."
Call 845-358-0800 or visit NY.RevoluSun.com