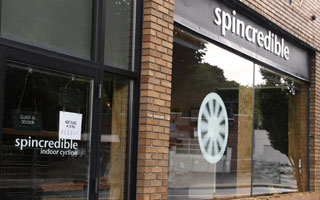 Spincredible is a brand new fitness studio dedicated solely to indoor cycling. Featuring a unique modern-industrial design, our 1,200 square foot space was developed to provide our riders with an intimate and intense workout environment. With our dedicated team of instructors, state-of-the-art Livestrong bikes, and an outstanding sound system, we trust you'll be hooked after your first ride. No More Lines or Calling for Reservations!
Spincredible offers a convenient on-line registration system, allowing our riders to set up their accounts and reserve bikes ahead of time. Accounts are also accessible on the go with Spincredible's new mobile app for smartphones.
Spincredible was established because we felt there was a compelling need for a convenient, high quality, indoor cycling studio in the Hudson Rivertowns area.  Indoor cycling has taken on a life of its own in the fitness industry, and is projected to continue its climb, as it becomes even more popular, as a quick and effective workout.
We bring to you some of the finest, most qualified instructors in the area, each with their own individual style and energy.  We are a boutique style studio, and with our small group class setting, our instructors are able to focus on you and your needs during the length of the classes.
Spincredible offers convenient, 55-minute, morning and evening classes during the week in order to accommodate your busy schedules.   We also offer classes on Saturday and Sunday mornings, including an intro-ride for beginners.
Our studio is equipped with some of the highest quality bikes in the industry, as well as a state-of-the-art sound system in order to maximize your cycling experience. We want our clients to enjoy a fun, upbeat, energizing cycling experience in a warm and inviting space!
We are conveniently located in Ardsley, NY and are less than a mile away from the NYS Thruway and Saw Mill Parkway.
For more information visit Spincredible at 692 Saw Mill River Road, Ardsley, New York, 10502, t. (914) 478-7746 or visit them online at www.spincredibleny.com