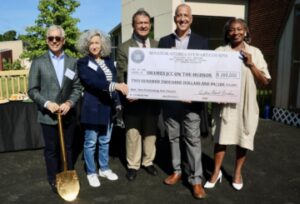 On June 13, the Shames JCC commenced the construction of their new multi-million dollar facility with a celebration comprised of a symbolic groundbreaking ceremony, as well as speeches highlighting the project's plans, history, and vision. On hand was New York State Senate Majority Leader Andrea Stewart-Cousins, County Executive George Latimer, Greenburgh Town Supervisor Paul Feiner, and Greenburgh Councilwoman Ellen Hendrickx, along with approximately 25 generous donors and dedicated JCC board members.
The upcoming project will serve a vital community need. It will showcase a cutting-edge theater and event space, designed to host live performances, concerts, and life celebrations. Additionally, it will offer a café and a shared workspace/lounge. The state-of-the-art facility is expected to open early spring 2024.
NY State Senate Majority Leader Andrea Stewart-Cousins presented a generous award of $200,0000 from the State and Municipal Facilities (SAM) Capital Program Grant.
"I'm very happy to be here as we open this space, as we open our hearts, as we open our minds, and as we make sure that the next generation realizes that there are families like the Shames," said New York State Senate Majority Leader Andrea Stewart-Cousins. "And as government, I'm happy to serve with government partners who understand that you have to begin—because what you begin can be a weed—or it can be the seed that blossoms all of this."