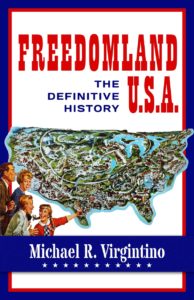 The following excerpt was written by Mike Virgintino. Mike is an historian who has written about local points of interest that include The Legend of Sleepy Hollow, Fort Hill in Peekskill and the Battle of Stony Point. Mike is also a marketing communications executive who has directed corporate, nonprofit and product branding initiatives in Westchester, New York City and Long Island.  His new book, Freedomland U.S.A is available in paperback and on Kindle at Amazon.
My parents came from the South Bronx. They were married when my father returned from World War II, and, eventually, they purchased a new brick row house in the northeast section of the borough. 
After I joined the family, Freedomland U.S.A. arrived, rising on marshland in the nearby valley. I was at the right place at the right time. My summer fun at Freedomland captured my imagination and nurtured my love for American history. My passion about our past has grown stronger with each passing year since Freedomland closed its gates.  
I never forgot about that wonderful place where it all began for me. As a writer, journalist, public relations executive, and historian for the last 40-plus years, I have written and spoken about a myriad of topics. Then, about a decade ago, I felt it was time to "return" to Freedomland. With the arrival of social media, I created a popular memory page on Facebook: "Freedomland U.S.A.—The World's Largest Entertainment Center." 
The following is an excerpt from Freedomland U.S.A.: The Definitive History (Theme Park Press). I document from conception to bankruptcy the story about one of the most beloved theme parks in America. It lasted just five seasons (1960-1964), but Freedomland still is recalled fondly by the baby boomers among us. 
_______ 
Bronx residents had an abundance of family entertainment venues from which to choose during the early 1960s. Anyone seeking a carnival atmosphere enjoyed Brooklyn's Coney Island and Rockaways' Playland in Queens. Some people traveled to Palisades Amusement Park along the Hudson River in New Jersey, or Rye Playland, which continues to operate today in Westchester County. Small neighborhood amusement areas could be found throughout the five boroughs of the city, in Westchester, and along Long Island. 
Freedomland U.S.A. was different than the conventional amusement parks. It was a theme park that featured the story of America through attractions that included Fort Cavalry, the Chicago Fire, the Civil War, and the Northwest Fur Trapper ride. It even embraced the present and future of space flight.  
The research and design team that created and constructed Freedomland consisted of about 200 leading artists and architects. Many were former Disney employees. Others were veterans of the film industry. 
The Bronx location for the theme park was a 205-acre site at the southern part of about 400 acres of marshland. The park and its attractions would be located on 85 acres, with the remaining 120 acres reserved for maintenance and parking.  
Freedomland's grand opening had been scheduled for June 1, 1960. It then was rescheduled for a month later to ensure that the park would be ready for the anticipated crowds. Due to the growing excitement generated by aggressive advertising, marketing, and the on-air promotion by the city's popular music radio stations, the official opening date again changed to June, specifically to Father's Day on Sunday, June 19.  
Mommy & Daddy, take my hand 
Take me out to Freedomland. 
$2.95 is all you pay 
At Freedomland today! 
You'll see the great Chicago Fire 
Look out the flames are getting higher. 
Battlefields and shady parks 
You're right there on the spot. 
           ~ Freedomland Jingle