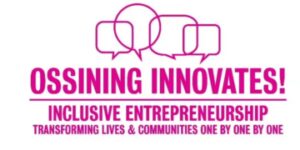 Want to start a business? Need a good idea? The Idea Bootcamp is for you!
Thinking of great business ideas is a skill, not something you need to be born with.
Ossining Innovates! along with its partner The Women's Enterprise Development Center is offering its popular Idea Bootcamp as a hybrid program starting on August 5. The bootcamp is for anyone who's been dreaming about starting a business but isn't sure if they have a good idea or has so many ideas they don't know where to start. In this hands-on program, we learn a proven method to find opportunities, generate ideas, evaluate market potential, and prioritize which ideas best fit a budding entrepreneur's skills and resources.
"Ideation bootcamp was an exciting and eye opening experience. Having experts such as Abby and Henry guiding me through the process of identifying an idea for a business has been a privilege. They kept me on my toes throughout the entire process providing quality feedback and suggestions on how to proceed whenever I got stuck. This is a great program to get your "feet wet" before you embark in a life long journey of creating your own business." A. Vallejo
With the economic challenges and uncertainties facing all of us these days, there's never been a better time to launch your own new business. Before you just jump into a business and spend your precious time and money, why not take the time to learn an approach that successful entrepreneurs have used before you? Then the Idea Bootcamp is right for you.
The Bootcamp is being offered as a hybrid program. On August 5th we meet in person from 10am to 3pm at the new co-working space Ossining Riverworks at 30 State Street. The program continues with a virtual meeting the evening of August 16th.
To learn more and register today, visit the website: https://ossiningin