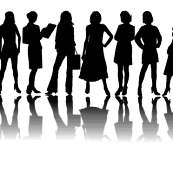 The inaugural Rivertown Women's Networking program was held on January 29th at the Shames JCC with over 25 women in attendance. This initiative aims to engage women from diverse backgrounds to facilitate connections and empower professional development. Future programming will include facilitated and informal networking, talks on relevant topics presented by experts and facilitation of mentorship relationships.
Attendees to this first event included women from up and down the Rivertowns, full-time and part-time professionals, entrepreneurs and community organizers.
The next general session is scheduled for March 26 at 7:00 at the Shames JCC.  All Rivertown Women are welcome to join – contact Laurie@LHSCoaching.com for more information.