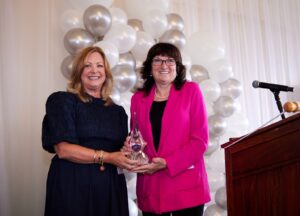 In recognition of her tireless dedication to raising awareness and fundraising for Breast Cancer research, Liz Battista was recently awarded the 2023 Houlihan Lawrence Humanitarian Award.
Battista, who is a cancer survivor, rose to the challenge of leading the company's Stronger Together initiative a few years ago. Together with the incredible force of the Stronger Together team leaders, Houlihan Lawrence has reached new milestones and broken fundraising records ever since.
Liz is also a former, long-time freelance employee of River Journal.
"Liz's generosity, compassion, and commitment to making a difference are admirable. I was thrilled to present her with the 2023 Houlihan Lawrence Humanitarian Award along with a donation to the American Cancer Society on her behalf," said Liz Nunan, President and CEO of Houlihan Lawrence.
"I am blessed to be the behind-the-scenes cheerleader for our inspirational, creative and talented 'Stronger Together Family'. Our fundraising initiative is a huge success each year thanks to the tireless work of all our team leaders across our 32 offices, their agents, managers, our employees, friends and families. It makes my day to hear of the fun events and watch the numbers change each day as our fundraising pros continue their amazing work," said Battista who has been an integral part of the company for over 20 years. She is a resident of East
Fishkill.
For more information about the Stronger Together Campaign visit  https://northof.nyc/happenings/houlihan-lawrence-stronger-together/