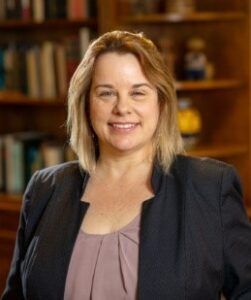 Kendal on Hudson is pleased to announce the appointment of Jean Eccleston as the new Chief Executive Officer. Jean has been an integral part of the Kendal on Hudson team for the past five years, and her appointment is a testament to her talent, hard work and contributions to the organization.
Most recently, Jean has been the Interim CEO and CFO for Kendal on Hudson and has been invaluable in bringing the organization to a very healthy financial position. She has created a top-notch financial service department, developed the multi-year capital improvement strategy, compensation strategy, the information technology strategy and was instrumental in developing the strategic plan. Jean refinanced the existing debt in 2022 to create the debt capacity necessary to invest in the recently announced Commons Refresh Project, which will renovate and expand the common areas, including dining, pool and fitness areas and the terrace that overlooks the Hudson River.
As Chief Financial Officer, she was responsible for all finance and accounting matters for Kendal on Hudson and Kendal on Hudson Charitable Fund and oversees the accounting for the Kendal on Hudson Resident Association. In addition to her finance responsibilities, Jean oversaw Information Technology.
"Jean has been, is and will be the right person for Kendal on Hudson going forward," said Board Chair Lynn Tepper. "We are confident she will lead Kendal on Hudson to continued success."
Amy Harrison, Interim CEO of The Kendal Corporation, expresses her enthusiasm for Jean's work. "The Kendal Corporation is proud of the Kendal model, which provides for autonomy of the organizations that are members of the System.  I'm confident Jean will continue to bring financial and operational expertise and strong leadership to Kendal on Hudson. Welcome to the CEO role, Jean."
Jean is excited to take on the CEO role and looks forward to the challenges and opportunities ahead. "I am honored and humbled to be appointed as the new CEO of Kendal on Hudson," said Jean. "I look forward to collaborating with the Board, employees, and residents to ensure that Kendal on Hudson continues to be a vibrant and successful community."
To learn more about Kendal on Hudson, visit kohud.kendal.org or call 914-922-1000.