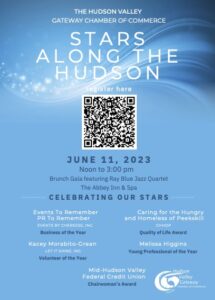 On Sunday, June 11, you will be able to star gaze at noon at The Abbey Inn & Spa in Peekskill as the Hudson Valley Gateway Chamber of Commerce will host its annual brunch award gala.
This year, as the Business of the Year, the Chamber will be recognizing Events To Remember/PR To Remember/Events By Chereese, Inc.
Caring for the Hungry and Homeless of Peekskill (CHHOP) is receiving the Quality of Life Award.  Kacey Morabito-Grean of Let It Shine, Inc. will be recognized as Volunteer of the Year.  Melissa Higgins is this year's Young Professional of the Year. The Chairwoman's Award goes to Mid-Hudson Valley Federal Credit Union.
When canvassing its more than 400 members to see who would be honored this year, the Gateway Chamber said it was faced with an embarrassment of riches from which to choose. "So many of our members display the award-winning qualities we seek in our honorees," said the Chamber, "it prompted us to think of this observation from philosopher and entrepreneur Matshona Dhliwayo: "'Stars do not pull each other down to be more visible: they shine brighter.'"
For registration information CLICK HERE