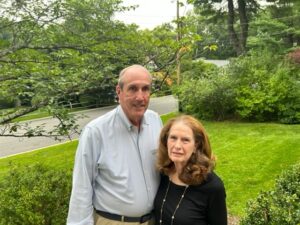 Former Deputy County Executive Kevin Plunkett and Rosemary Plunkett will receive the Laurance S. Rockefeller Award for Service from the Family YMCA at Tarrytown at their 4th annual Circle of Caring Fundraiser on September 28th at the Abigail Kirsch at Tappan Hill Mansion, Tarrytown. The award is presented in recognition of service to the Rivertowns communities.
The Circle of Caring event coincides with the opening of the Family YMCA at Tarrytown's new site for their Early Learning Center located at 139 Wildey Street, in the Tarrytown Station Center, expected to open the first week of October. The newly renovated center will offer families convenient, affordable, licensed childcare with 7 brightly lit classrooms, a private enclosed playground, within walking distance of the Villages of Tarrytown and Sleepy Hollow. With ample parking, including 5 dedicated pick-up/drop-off spots, steps away from the Tarrytown Metro-North Station, the center will have the capacity to serve an estimated 70 infants, toddlers and preschoolers. The Y is also looking to expand programming on the weekends and evenings to include fitness and dance classes.
"We're excited to recognize Rosemary and Kevin for their dedication to Tarrytown and the surrounding communities," said Gerry Riera, Family YMCA at Tarrytown CEO.
Rosemary Plunkett, originally from Baltimore, Maryland, a mother of five and a grandmother to nine, has always been invested in her community of Tarrytown. Rosemary has a Master's in Early Education from Fordham University and has taught preschool and elementary school-age children locally for 25+ years. She was a member of the Junior League of Westchester and a board member of the Donald Reed Speech Center. Rosemary is a Eucharistic Minister at Transfiguration Church in Tarrytown and is part of their Twinning Ministry. She volunteers as a teacher in the Parish School of Religion at Transfiguration and has worked with Open Door to collect items for their Baby Bundle Project.
Both Rosemary and Kevin have been strong supporters of Phelps Hospital/Northwell Health and were instrumental in one of the most successful fundraising efforts the hospital has hosted in recent years, the 2021 Champagne Ball where Kevin served as co-chair. In 2022 Kevin was elected as the hospital's Community Board Chair.
Kevin has had a long and distinguished career in both the public and private sectors, having served as Deputy County Executive of Westchester from 2010-2018. He is currently the Director of Strategic Initiatives for Simone Development Companies. He began his law career over 4 decades ago as an Assistant District Attorney for Westchester County. He went on to join the law firm of Plunkett & Jaffe for 20+ years. He became a partner in the law firm of Thacher Proffitt & Wood from 2000 to 2008 and a partner at DelBello Donnellan Weingarten Wise and Wiederkehr from 2008-2010.
Throughout his law career, Kevin has represented numerous governmental entities including the Villages of Tarrytown, Irvington, Dobbs Ferry, and Mamaroneck, and the City of Rye. He is a former board member of the New York State Thruway Authority/Canal Corporation, Taconic State Park Recreation and Historic Preservation Commission, New York
League of Conservation Voters and the Greenway Conservancy for the Hudson River. He served on four Governor Judicial Screening committees from 1997 to 2017 and served as chairman from 1997 to 2006. Well-known in Westchester's business and not-for-profit community, Kevin has served on various public bank boards, most recently on the board of Tompkins Mahopac Bank and is currently the chair of the Tompkins Community Bank Development Board. Additionally, he has served on the boards of numerous not-for-profit and educational institutions including Phelps Hospital's Community Board, ArtsWestchester, Westchester ARC Foundation and Iona College. Kevin is a lifelong resident of Tarrytown and he and Rosemary have supported and been members of the Family YMCA at Tarrytown for many years.
The Family YMCA at Tarrytown does not turn away people based on their ability to pay, and between 2018 and today has awarded over $1 million in financial aid to the families they serve.
The Y Circle of Caring helps support the Y Early Learning Center (early childcare), Schools Out (school-age childcare), Y Dance, Y Cheer and Virtual Fitness Programming.
For more information or to purchase tickets to the event, contact Lesa Dalton, Associate Executive Director and Y Circle of Caring Chair 2023 at  lesad@ymcatarrytown.org OR CLICK HERE