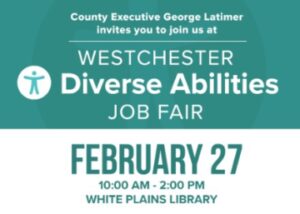 Born out of an initiative to combat the nationwide high unemployment rate among people with disabilities, Westchester County continues its support of all community members through their Diverse Abilities Job Fair series, which will begin on Monday, February 27. The hiring event will bring together representatives from Amazon, CVS, NYPA, White Plains Hospital and 25 other major local employers from across all sectors. Over 225 preregistered candidates with disabilities will be able to interview on the spot with employers while discussing special accommodations.
Monday, February 27
10 AM – 2 PM
White Plains Library
100 Martine Ave.
White Plains, NY 10601
Westchester County Executive George Latimer said: "Let me make it clear that inclusivity matters and affects everyone throughout our community. It's more than just a good practice for businesses that helps them grow and regain talent, inclusion is about making everyone feel welcome and that everyone has something to offer. This job fair is one small way we will continue to make sure that everyone in Westchester knows that and feels that and has the opportunity they deserve."
Westchester County Office of People with Disabilities Director Evan Latainer said: "We are proud in continuing our mission of providing our diversely-abled community a chance to be in the room where it all happens and the opportunity to showcase their unique job skills all while giving local businesses support to hire an untapped resource here in the County."
Westchester County Office of Economic Development Director Bridget Gibbons said: "We know people with disabilities have a high unemployment rate. If we can help more employers hire people with disabilities that's a win for our economy and for our community. The Westchester County Office of Economic Development is proud to continue to offer these inclusive job fairs throughout the year."
Westchester County Director of Policy and Programs, Small Business and Chambers of Commerce Shari Rosen-Ascher said: "The response to our second Diverse Abilities Job Fair has been overwhelming. The need is real for events like these, which is why the Office for Economic Development has made a commitment to host two more of these events this year. We are thrilled at the response and the outcomes."
The Diverse Abilities Job Fair is a partnership between the Westchester County Office of Economic Development, the Westchester County Office for People with Disabilities and several local organizations.
Participating employers include: CVS, Amazon, NYPA, MHA Westchester, Westchester Human Resources, Westchester County Department of IT, Westchester Department of Health, Liberty Lines, Northwell Health, Jawonio, Westchester County Department of Corrections and Community Supervision, White Plains Hospital, MTA, VA Hudson Valley Healthcare, NYS Thruway Authority, Yes She Can, Manpower and others.