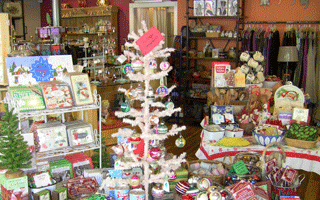 After 23 years in business at various locations, Lisa Globenfelt, who has a great eye for color and design, has finally found the perfect venue in Hastings-on-Hudson, to purchase and open Chelsea Dry Goods.She built her dream store in a turn-of-the-century building which she restored with updated colors and interior finishes.
When her lease was ending, Lisa had the option to renew or close down her business. Then she heard that one retailer was retiring and that the building on the corner  of Main and Warburton was for sale. Despite the economic downturn, Hastings-on-Hudson and the Rivertown communities have been very supportive of Lisa's business and she decided to plunge ahead.
She named the store "Chelsea Dry Goods" to characterize the look and merchandise she carries there. People ask,"Why the name 'dry goods?'" and Ask.com states "a dry goods store carries consumer goods that are distinct from those carried by hardware stores and grocery stores."
Inside is an old-school dry goods store that features a large selection of artful women's clothing, jewelry and accessories, home goods, infants' clothing and a full complement of children's toys with a wonderful retro vibe.
Lisa also edited the best selections from her previous stores and brought them with her with a focus on Made in the USA, fair-trade, and eco-friendly products.
Natural fiber women's clothing makes up a significant portion of the Store with brands like Comfy, Cut Loose, Iridium and Color-Me-Cotton, displayed on vintage-style racks. Two spacious dressing rooms add to the relaxed shopping experience.
Complimentary gift wrapping and delivery within the Rivertowns are available
Hours: Tuesday through Friday, from 11 am to 6 pm, Saturday 10 am to 6 pm.
Also by appointment by calling (914) 478-3553.