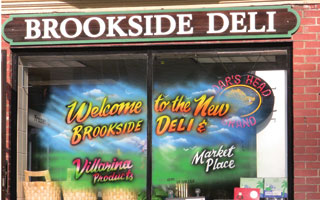 Lee has worked at the Brookside Deli for twenty-plus years and she is excited about what Bob Coppola, the new owner, has done with the space at 1 Taxter Road in Irvington. For starters he has multiple choices for breakfast, lunch and dinner.
There are hot and cold sandwiches, hot food, fresh salads and host of fresh frozen dinner entrees from  Villarina's that include fresh raviolis, homemade sauces, over 30 different entrees to choose from, homemade cheese cake and Italian pastries. For the upcoming Holiday Season, Brookside Deli & Marketplace is offering fruit baskets, candy baskets, cookie baskets and a full line of catering possibilities.
There is a tremendous amount of choice at Brookside  and it all tastes very good. They are open 7 days a week and on Christmas Day as well.
For more information call them at 914-591-DELI (3354) or visit them and say hello to Bob, Lee and Bob. It's pasta and more!