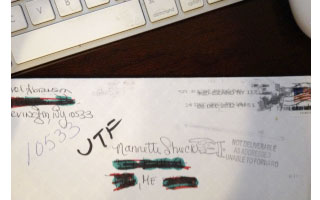 Well after I wrote my November 30th blog about Nannette Stueck, I received over 100 public and private comments on potential ways to find her. I listened to several comments and tracked a series of addresses to Maine.  I sent off a few letters hoping that at least one of the addresses I got would be hers.  But as you see from above, all of my letters were returned …NOT DELIVERABLE AS ADDRESSED.  It seemed to be a dead end.  I wondered if I was going about this the wrong way…But in the end, odd as this may be, it was her that found me.
On December 17th I got a note posted to my LinkedIn account from Nannette, that simply said she was trying to find me and gave me her email.  I was thrilled.  The next day I got this…(I have taken out the personal details).
Oh finally, No, my cousin forwarded your blog Sunday.  I have been attempting to contact you since. Here's some of the mail I've been trying to send you. I tried to post to your blog but it said something about needing moderation and now is gone,  linked in must have worked, I tried  Carol@fXXXXXXXXXX but that didn't work

Carol –

Last night after watching / helping my daughter XXXXXXX decorate our tree I launched my email, The usual advertisements to be deleted, a note from my sister to call my mom in the face of Friday's tragedy in Newton, and a note from my cousin Eileen in Pasadena, CA.

She stumbled upon your blog and found your note to me, and she forwarded it, in case you hadn't found me.  She said she was later night, should have been asleep internet searching….I should probably ask what brought her to a cancer blog….

You are the first person I think of when someone says, "IF you know someone who has been affected by cancer," but of course I had no idea how many new ways it would touch you in the 28 years since I'd seen you last.

I remember our quick and easy friendship and our talks, I remember our brief rooming while you continued your treatments at Tufts.  I remember too, the odd way people reacted to your cancer and I remember your strength.  I also remember how when you had beaten Hodgkins and graduated that you broke down and cried to me on the phone so scared about the future, and I was in such awe of it, like after all the bravery, why now??  Why is she so scared now, and so brave in the thick of it.  I have cautioned everyone I have known since when they have struggled with cancers, mostly breast and said be careful – watch your thoughts, be ready for the crash, and call me if you need to talk.

I, to date, have avoided the cancers personally as well as with immediate family members.  Great girlfriends and neighbors have had lumpectomies and mastectomies, all very brave and beautiful survivors! But, you were my first….and so you remain the first thought.

Great to find you and I'd love to stay in touch!!!

Love, Nannette
And even greater gift was that she was relatively local over the holidays, and we got to meet for breakfast.  I got the chance to meet part of her family.  They are as warm as Nannette.  And if I didn't say it to you that day Nannette, you look great…and happy.  I have done nothing but talk about re connecting with you.  I know I owe you an email,.  I have been so busy telling and re telling everyone about that I don't  didn't even email to say what a great breakfast it was, and I look forward to many more meetings.
I realized I got a few details wrong, Like Nannette went to Simmons not Northeastern, but we figured why I thought that….But all in all our memories coincided.
What a great Holiday Gift it was to reconnect….It was a real great feeling finding you and thanking you.  I believe it completed  closure on that time in my life.  And gives me the chance to create a friendship with someone I know has a great heart!!!
New Resolution #1.
*Be grateful and always say say thank you to those you feel deserve it!
CHECK
ENJOY TODAY!
Carol