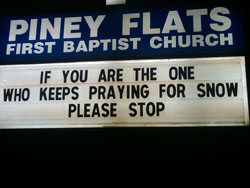 Oh Mother Nature… you're a nasty one this winter season! Week after week it's a cold slap in the face from you, what gives?
From slip and slid roads to perilous walkways, we're getting slammed this winter in the Northeast. It's kinda getting on my nerves. However, colder times call for creative solutions so if you're stuck indoors and would rather be outdoors, here are some fun activities you can do that will relieve you if you're suffering from cabin fever while allowing you to get in some good old exercise, the pioneer way!
Creative Workout Solutions for the Snowbound:
1) Rev up your arms and legs by making not just one solitary snow angel but a whole snow angel choir. Better yet, encircle your house with a protective barrier of snow angels prepared to do battle should Mother Nature pass by.
2) Start a snowball fight with the neighbor's annoying kids. (But first, prepare your fleet and ammo by building a fort.)
3) Take the hose and water down the backyard, making it perfect for a short track ice skating rink and get your Apolo Ohno on.
4) Take the kids sledding. No hills in your hood? No worries. Just tie a rope around your waist and attach it to your kids sled and run like the Siberian husky sled dog that you are!
5) Shovel your walkway, driveway, parking space or patio, any surface will do. Better yet, shovel out your name on your front lawn so everyone knows who lives there.
And there you have it, 5 ways to work it out in the snow! This just goes to show you, where there's a will there's a way. Northeast dwellers, you got no excuse! (Unless Mother Nature decides to finally flip the switch on this snowy winter and provide a little warmth. Doubt it though, she's on a bender this year!)
Anne Marie Costanzo is a nationally certified personal trainer and owner of Little Black Dress Personal Training. She can be reached at am@littleblackdresspt.com or (914) 841-1121.