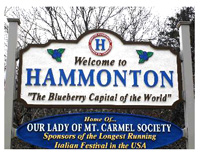 And the season is blueberries. They're all over farmer's markets and super-duper monster markets; coming in from Maine, North Carolina, Cali, Oregon and they're even thriving in Jersey. (Way to go Jersey, we knew something good had to come from the Garden State eventually—I'm kiiiiiiiiidddding! It's a great state.)
Moving on, blueberries are all over and they are super tasty this time of year so today I'm scouring the media for the perfect recipe that balances great taste with all the healthful attributes a blueberry has to offer, while being super easy to prepare.
I introduce to you the Blueberry Crisp (I found this tasty little treat on Medicinenet.com since I'm not as talented a baker as I wish I were and creating recipes is an art form I leave to the professionals!)
This recipe calls for just a half-cup of brown sugar for 12 servings. Rolled oats and wheat germ add the goodness of grains.
Ingredients:
Filling:
Topping:

1/2 cup packed brown sugar

1/4 cup rolled oats, uncooked

1/4 cup wheat germ

1/4 teaspoon ground cinnamon

1/2 cup butter or margarine, softened but not melted
Preparation:
Preheat oven to 375° F.
Place the fruit in a 13x9x2-inch glass baking dish.
Combine the brown sugar, oats, wheat germ, and cinnamon in a medium bowl. Cut in the margarine with a fork until the mixture resembles coarse crumbs.
Sprinkle the brown sugar mixture over the top of the blueberries. Bake for 25 minutes or until the fruit is tender. Cool before serving.
Yield:
12 servings
Nutritional Information:
Per serving (made with margarine): 152 calories, 3 g protein, 22 g carbohydrate, 7 g fat, 1 g saturated fat, 0 mg cholesterol, 3 g fiber, 68 mg sodium. Calories from fat: 41%.
(There also was a recipe I found on EatingWell.com that was for Blueberry-Ricotta Pancakes but it was a little higher in calories. If you promise to eat those in moderation then you can click here. Otherwise, stick with this recipe, it's healthy yet it helps to satisfy that sweetness so many of us crave!)
Anne Marie Costanzo is a nationally certified personal trainer and owner of Little Black Dress Personal Training. She can be reached at am@littleblackdresspt.com or (914) 841-1121.