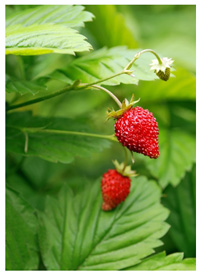 So I woke up Saturday morning and while lounging in bed I was trying to think of what it was that could ultimately pull me out of my comfy little spot, all snuggled in my down comforter while tucked away in my little air conditioned piece of the world. It was hot out there this weekend so it would have to be something really enticing to pull me out into the heat.
Then it came to me. Freshly picked strawberries from the Farmer's Market.
Done. I was up and outta bed, batting my eyes at my hubby to come with me so we could happily peruse the stands while snacking on oddly shaped strawberries. (The real deal organic, unprocessed strawberries, the ones without the 54 varieties of pesticides, are so much smaller and so much more oddly shaped than the large, manufactured and possibly genetically modified versions you get in the store.) It takes me right back to my mom's garden in Ohio when during strawberry season we would trek what felt like two miles to the end of the backyard with a huge spaghetti pot and fill it with all the strawberries we could find. No store-dwelling strawberry can ever come close to the sweetness and juiciness of those strawberries. That was my favorite time and one of my most vivid memories as a young one.)
Anyway, back to the suburbs of Westchester, where all I've eaten for 28 years since then is store bought strawberries. That is until a few weeks ago when strawberry season hit the farmer's market. That first bite of that first strawberry, alleluia, praise the Lord, I'm five again and standing in my old backyard. It was like one of those Hollywood fabricated movie moments when you step back in time to the pretty farm house with the new morning sunlight warming the misty green grass, picturesque red barn in the forefront and some rooster cock-a-doodle-doodling far off in the distance. (Not that I grew up on a farm, it was a standard house just with a really big back yard that happened to lead out onto a huge wheat field that was ultimately destroyed to build more houses – Hollywood versions are so much more picturesque.)
So with that in mind, we set in hopes to experience a Hollywood moment.
What we got instead was the big fat realization that strawberry season, the real season, not like the grocery store all year round season, was over. Done. Come back next year. See ya.
Devastation.
So I ended up with these little blackberry/raspberry looking things and some blueberries. Not to say they're not good for you too with their antioxidants killing off free radicals (what women isn't looking for that?) but it just wasn't the same.
With my newfound love for the farmer's market also comes my newfound realization that fruits and veggies aren't around all year long like the grocery store varieties are, and to get the tastiest and better varieties, you'll want to stick to your local farmer's seasons and shy away from the global, pesticide-ridden farmer that make "all year round" possible.
So what's in season now? Here's a list of fruits that are bountiful in the Northeast for the month of July:
Apples
Blueberries
Melons
Peaches
Raspberries
Tomatoes (are they a fruit or are they a vegetable? Who cares. Just be sure to get some while they're in season)
Honorary mention: Corn (who doesn't love sweet corn? These are in season through August so get on it.)
This is just a small regional list hoping to help you not to be disappointed when you hit the farmer's market and your fruit of choice is no longer in season. (I can't believe I have to wait until next June for more strawberries… tragic.)