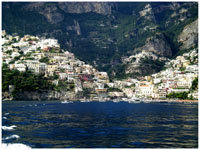 Italy was exactly what one would expect it to be… beautiful scenery, beautiful language, and beautiful food! The vivid images I'm able to bring to mind of coastal towns perched on mountainside cliffs peppered with purple flowers and lemon trees growing lemons the size of my head, help me as I stand here on my terrace, overlooking the destruction and ugliness of death that has consumed my once alive and blossoming plants.
Summer is indeed over.
And so is my vacation.
And while I didn't put on my running shoes once in Italy (and that felt wonderful I must admit; see, I'm not all about fitness and grueling workout sessions… I dig the lazy life more than I should admit!) I can promise you it was a trip of constant moving. We walked miles a day, constantly climbing endless stairs in the oppressive heat. There was the Colosseum, the Trevi Fountain, St. Peter's Basilica, the Duomo, the Spanish Steps, and wonderful nook and cranny streets that you didn't want to miss. It was endless, and by six o'clock each day I was happily horizontal, sipping a lemon soda (my new favorite guilty pleasure). I didn't have it in me to do a push-up, a crunch, not even a squat… and I enjoyed every second I was not doing any of those!
But… as we all know, all good things must come to an end, and so today will start up my workout routine again, for vacations are supremely enjoyed when you're able to fully detach yourself from your daily routines and expectations. (Ex. eating pizza everyday for lunch.)
By the way, not once did I see a Rome Sports Club, Florence Health & Fitness, Amalfi Racquet Club or any other fitness center in my travels. They simply don't possess the same intense obsession we do… and as much as I may love to relocate to the beautiful coast of Italy one day, I'm afraid my profession would not be fully understood by the locals. They eat what they make, walk to where they need to go and enjoy life as fully as they can (and climb endless amounts of steps each day). They don't need a personal trainer to teach them any of that!
Anne Marie Costanzo is a nationally certified personal trainer and owner of Little Black Dress Personal Training. She can be reached at am@littleblackdresspt.com or (914) 841-1121.