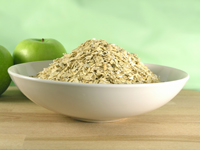 Bitter: intensely unpleasant especially in coldness or rawness.
Yup, that's the word of the day, or week I should say. Winter has definitely arrived in the Northeast. (Doesn't it just feel like yesterday Puxatony Phil saw his shadow and declared six more weeks of winter? Now here we go starting it up all over again. Winter is just plain cruel!)
Always striving to be an optimist however, (my success rate is about 1 in 5 times of optimism winning out, not a glass half full life but I'm hopeful!) I'm trying to see all the good that comes with the cold. One of my favorite things actually is the change in my breakfast routine. No more frothy, cold smoothies, or chopped up fruit with Greek yogurt, now it's on to the seasonal favorites, something that warms the belly and body! My favorite this time of year is a hearty bowl of oatmeal with a sweet little clementine to finish it off. (I'm addicted to the little balls of orange, tangy sweetness!) To add a little extra umph, I'll also sprinkle on a little milled flax-seed on top to give it that extra little punch of heart health. Below is a great recipe worth trying if you're looking to change-up your morning meal.
And please, don't skip breakfast! I can't tell you how many clients I've had who skip the most important meal of the day only to find themselves listless and unable to fully finish a workout because they didn't fuel up beforehand. Breakfast starts your day off right and helps you to mentally and physically face the challenges of your day in a much more optimistic way!
Hearty Oatmeal
4 cups skim milk
2 cups uncooked old-fashioned oatmeal
1/2 cup dark raisins
1/3 cup chopped walnuts
1 or 2 apples (any kind), cored, peeled and slivered
Cinnamon, to taste
Mix first five ingredients in a large saucepan. Bring to a boil, then turn heat down to low. Cover and simmer, stirring often, for about 10 minutes or until oatmeal reaches desired consistency.
Serve sprinkled with cinnamon (and extra milk if desired). Also add some flax-seed on top.
Makes 4 to 6 servings.
Anne Marie Costanzo is a nationally certified personal trainer and owner of Little Black Dress Personal Training. If you have any questions for her, she can be reached at am@littleblackdresspt.com or (914) 841-1121.