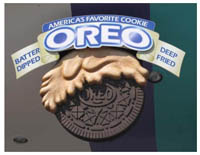 The other day I was dining with my sister-in-law and on the specials menu was this delicious sounding chicken salad dish, which normally I would stay away from since salad's do not fill me up, but this one had a key ingredient which lured me right in. 
Crispy
chicken it said. 
Crispy!
Aka, good old fried chicken!  And what doesn't taste good fried? (Although a friend of mine recently confessed to eating a deep-fried Oreo at some festival and I got to say… some things should just be left alone! There is enough wrong with that cookie—America's favorite cookie by the way, says so right there on the banner—that it should just be left to its own harmful devices and not made even more potentially hazardous by deep-frying it.) Anyway, neither my sister-in-law or myself ended up opting for the crispy chicken salad and instead went with some grilled chicken option. Slightly boring but with no buyer's remorse attached to it.
So today I decided to search for a recipe that can bring home that crispy chicken texture without having to unload 3/4 of a bottle of oil into a big pot, heat to an ungodly temperature and risk the chance of burning a hole in my face from spattering oil coming from the pot at lightning speeds; a healthy crispy chicken if you will (if there is such a thing that is). And apparently there is. Here's a recipe I came across that sounds super easy and can potentially elicit the same siliva-ey response that fried chicken does, without all the grease and guilt.
As soon as our kitchen gets back into working order, this is going to be first on my list to make in the new stove. Until then, let me know how it turns out. Better yet, let me know if you have an even better recipe for crispy chicken without the deep-frying part!
This recipe comes from Zestycooks.com
Ingredients:
4 Chicken Breasts
1 Cup Flour
2 Eggs
1 1/2 Cups Bread Crumbs
1 Tbsp. Water
Salt
Pepper
Red Pepper Flakes
Paprika
6 Dashes of Hot Sauce (optional of course)
Preheat oven to 350 degrees.
Slice the chicken breasts length-wise.
Flavor the flour with salt and pepper.
Add the hot sauce to the egg wash mixture as well as a tablespoon of water.
Season the bread crumbs with both red pepper flakes and paprika
Dip chicken in the flour mixture, then the egg mixture followed by the bread crumb mixture.
Once all coated and lined on a cookie sheet with parchment paper – place on the middle rack and cook until golden brown
Anne Marie Costanzo is a nationally certified personal trainer and owner of Little Black Dress Personal Training. She can be reached at am@littleblackdresspt.com or (914) 841-1121.