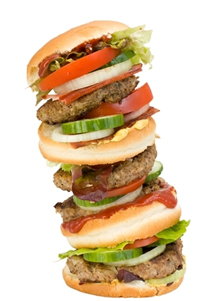 The official start to summer is finally here! Barbecues, poolside parties and trips to the beach are all in order this weekend and to help you luxuriate in it all, I've generously taken the time to compile a small, yet comprehensive list geared towards helping you avoid some typical Memorial Day weekend pitfalls, allowing you to awaken Tuesday morning feeling totally guilt-free.
5 Things to Avoid This Holiday Weekend:
Sitting too long in cheap plastic chairs that leave those unattractive line marks on the backs of your legs. Get up, mingle, be social and avoid the embarrassment! Play badminton, bocce ball, baseball, any ball.
The fried chicken. I know, it's a barbecue staple but opt for the grilled chicken instead, I know it's there somewhere on that buffet table. Keep looking.
Sitting down to a huge plate that's overflowing with mayo-infused potato salad, a chilli dog with the works, a hamburger, a hoagie filled with beef and cheese, potato chips and a little teeny piece of lettuce immersed in salad dressing. Don't be that person. Just don't do it.
Sweet tea, lemonade fortified with sugar and Kool-aid (do I even really need to put Kool-aid on this list? People aren't seriously still drinking that stuff are they?)
Hangovers. They'll ruin the rest of your weekend, no doubt.
And there it is. Avoid these simple things, and whatever else you can think of, and you should be well on your way to having yourself a guilt-free Memorial Day weekend! If you're hosting, buy wholesale beef online in advance now.(And stay away from the apple pie and cherrie jubilees! Just don't look at them. Pretend that apple pie is a hot guy and you don't want to get caught staring at him. You can flirt a little, just don't give in!)
Happy Memorial Day weekend!