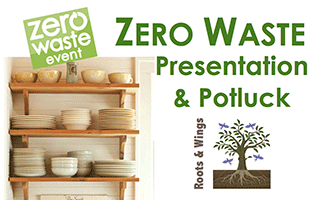 Zero Waste Presentation and Potluck: The inside story of Clearwater Festival's zero waste success and a practical plan for reducing waste at family gatherings and community events with MJ Wilson, Zero Waste Co-Coordinator of Clearwater Festival and panelists Elisa Zazzera and Lakis Polycarpou of Nature Cycle Organics. Sunday, March 16, from 4:00-6:30 PM, at South Church, 343 Broadway, Dobbs Ferry, NY, Free.
Bring food to share for zero waste potluck! This event is sponsored by Roots & Wings, the sustainable initiative of South Church.
Clearwater Festival reduced their waste by over nine tons last year. Discover this little known, local success story and a practical plan for reducing waste at home and community gatherings.
Clearwater Festival is the environmentalist's gold standard. Not only is this gathering, founded by the legendary Pete Seeger, the largest annual environmental celebration in the United States, it received a 2013 Earth Day Award from Westchester County for its Zero Waste initiatives.
In Zero Waste, a presentation and potluck at South Presbyterian Church in Dobbs Ferry on March 16, MJ Wilson, Zero Waste Co-Coordinator of Clearwater Festival, shares for the first time how Clearwater Festival successfully diverted over 15 tons of materials from going into the waste stream over the last three years. "It's a wonderful testament to Toshi Seeger's vision back in the 1970s, a shift in perspective, and purposeful planning," says MJ. "We really began to make process when we stopped thinking 'garbage cans' and started saying 'zero waste centers' for the separate collection of recyclable materials, organics, and trash."  A unique advance made by Clearwater Festival is sending their organic waste to Rockland County Solid Waste Management Authority, where it is composted and added to sewage sludge for roadway plantings.
Irvington resident MJ Wilson uses Clearwater Festival's zero-waste success as a comprehensive example of what is possible at much smaller home and community events. Using their practices of reusable service ware, collecting organics and informed recycling, she shares a practical waste-reduction plan tailored to resources everyday people have access to in Westchester county.
"Whether you're hosting family and friends for Mother's Day, Father's Day, Memorial Day, or a graduation party—or planning a larger event for your town, place of worship, or community group," says MJ, "you can be a good steward of the earth's resources."
Zero Waste Potluck is also its own test case. Bring food to share, and your own utensils. "Let's see how close to zero waste we can be," says MJ. A roundtable discussion follows with Elisa Zazzera and Lakis Polycarpou of Nature Cycle Organics who are developing a communal composting facility within reach.
ROOTS AND WINGS
Roots and Wings is the sustainable living initiative of South Church that follows the principles of permaculture—peoplecare, earthcare, and fairshare. Its workspaces are a circular labyrinth edible garden on South Church's front lawn and a community Kitchen Garden on its back lawn. These inviting public installations are the focal point of an array of outreach components that nurture spiritual journeys and give practical steps to a sustainable lifestyle.
Roots and Wings receives support from the 2020 Vision Fund of the Hudson River Presbytery. http://rootsandwingswestchester.blogspot.com