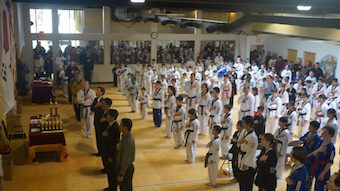 Over 250 competitors and spectators filled Yoo's Martial Arts on Saturday, February 11, to watch and compete in the 7th Annual Hong Ik Martial Arts Festival – an annual tournament for ages six and up showcasing martial arts skills and energy cultivation. Individuals and teams from seven schools across the tri-state area chose to compete in Board-breaking, Form (Form or Poomse is a routine of blocks and attacks performed in fluid movement), and several students were invited to compete in Olympic-style sparring.
Photo: Competitors salute the flags
But what does Hong Ik mean? And what makes this different from other tournaments?
Master Sung K. Yoo, founder of Yoo's Martial Arts, started the Hong Ik Martial Arts Festival in 2010.  "Hong Ik means service for the benefit of humanity. Competitors are encouraged to cultivate positive energy and harmony in this group setting. An important aspect of martial arts is the cooperative bonding experience and the far-reaching benefits of rising one's energy to benefit humanity," explains Master Sung K. Yoo. This approach tempers the perception of martial arts tournaments as purely a showcase of skill and strength.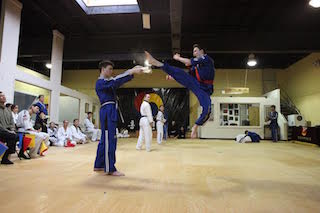 Participating schools included Yoo's Martial Arts Tarrytown; Yoo's Martial Arts Fairlawn, NJ; Hong-Ik Martial Arts School of New Rochelle; Agape Black Belt Center of Rochester, NY; Yong In Elite Tae Kwon Do of Norwood, NJ; White Tiger Tae Kwon Do of Greenwich, CT; and Song Tae Kwon Do Academy of Fairfield, CT.
A complete list of winners is included below:
Champions in Each Division
Children White /Yellow/Orange Belts
– Aaditya Hridas (Tarrytown)
Children Green/Blue Belts
– Myles Duckett (Greenwich, CT)
Children Purple/Red Belts
– Tim Charles (Tarrytown)
Children Black Belt 11 years and younger
– Daniel Park ( Norwood, NJ )
Children Black Belt 12/13/14/15 years
– Hailey Ra (Rochester, NY)
Adults
– Yuan Lu (Rochester, NY)
Team
– Agape Black Belt Center (Rochester NY )
Sparring group 1
-Steven Coronel (Fair Lawn NJ)
Sparring group 2
-Gianni Frango (Fairfield CT)
Sparring group 3
-Luke Ra (Rochester NY)