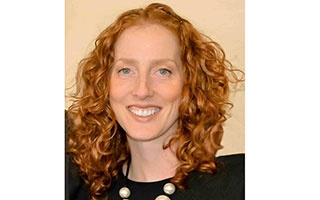 Westchester Jewish Community Services announces it has named Amy Siniscalchi, LMSW, assistant executive director of children, youth and family services. Siniscalchi will oversee a network of programs serving 7,000 Westchester children from pre-school through late adolescence in early literacy, parenting, after-school, violence prevention and intervention initiatives and services to pregnant and parenting teens and LGBTQ youth.  Siniscalchi was former chief program officer at My Sisters' Place, responsible for overall management of the agency's shelters, counseling and outreach/training programs.
"We're delighted to welcome Amy to WJCS. Her expertise in children and family services and her experience in Westchester's non-profit sector will be major assets to our agency," said Bernie Kimberg, chief operating officer, WJCS.
Siniscalchi has worked for nearly 17 years in the areas of domestic violence and child abuse, and more recently in the area of human trafficking. During her tenure at My Sisters' Place, she helped expand the agency's programming  for children, helped launch the agency's human trafficking initiative, co-founded the Westchester County Anti-Trafficking Task Force, and launched a pet safety project in collaboration with the SPCA of Westchester. She also has authored several publications related to human trafficking and secondary trauma.
Siniscalchi also served in various capacities at several other nonprofit agencies in the New York metropolitan area, including Sanctuary for Families, New York Association for New Americans (NYANA) and Safe Horizon. She served as a board member for the New York State Coalition Against Domestic Violence, including two years as vice president. 
She earned her BA in Sociology from Vassar College, has a Master's in Social Work with a concentration in Administration from Hunter College and is a graduate of Leadership Westchester, a program of Volunteer New York!
WJCS is one of the largest non-profit, non-sectarian human services agencies in Westchester, serving 20,000 people annually at 70 clinic, school, community and home-based locations throughout the county. The agency's integrated network of services includes mental health treatment and counseling, child and youth development programs, residential and non-residential programs for people with intellectual and developmental disabilities, home health and geriatric services. The highest level of professional development and training is offered through the WJCS Educational Institute. For more information on WJCS, go to www.wjcs.com.