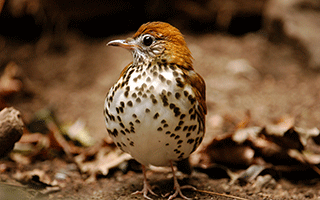 The Wildlife Conservation Society's Bronx Zoo will host the first ever "Bronx Zoo Birdathon" on Saturday, May 17 during the peak of the spring migration season.  The first annual bird-watching event is open to experienced birders as well as families and novices.
The Bronx Zoo is a birder's paradise. The park sits on 265 acres of hardwood forest that is transected by the Bronx River – the only freshwater river in New York City. The diverse habitats and access to water make the zoo the perfect environment to host dozens of migratory and local bird species including warblers, vireos, thrushes, woodpeckers, ducks, wading birds, and more.
At right,: A close relative to the more commonly known American robin, the wood thrush is migratory bird which winters in Central America and summers in the eastern United States. The wood thrush can be seen probing through the leaf litter in the forested sections of the Bronx Zoo. The male sings in a beautiful, melodious song with several flute-like phrases. Photo credit: Julie Larsen Maher © Wildlife Conservation Society.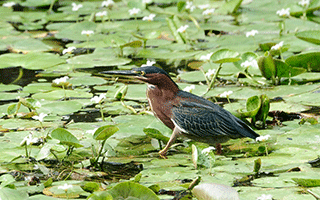 The Bronx Zoo Birdathon event offers options for all skill levels. Expert birders and families will receive a checklist of bird species found in and around the zoo. Zoo staff will be on hand to guide participants to areas of the zoo where they will be most likely to observe wild birds.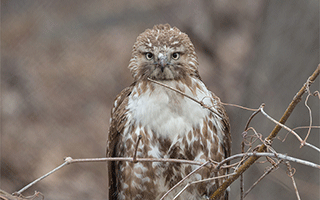 WCS ornithology experts, Dr. Steve Zack, WCS Sr. Conservation Scientist and Coordinator of Bird Conservation, and David Oehler, Bronx Zoo Curator of Ornithology will be on-hand along with the zoo's bird keepers to chat with bird-watchers about WCS bird conservation programs, offer birding advice and answer questions.
"The Bronx Zoo Birdathon is an exciting opportunity to witness both the peak of wild bird migration in the diverse forest and river habitats on the zoo grounds and to appreciate the great diversity of birds of the world on exhibit at the zoo," said Dr. Steve Zack. "We think it is a fun and exciting way to highlight our conservation efforts in the wild and indicate how the Bronx Zoo supports many of those activities through research and raising public awareness.  Nowhere else can you celebrate and experience the world of birds through exhibitory and in the wild like you can at the Bronx Zoo."
Said David Oehler: "Conservation starts in your backyard.  What better way for WCS to celebrate birds and bird conservation than by allowing our guests to see one of nature's wonders, the multitudes of Neotropical birds as they migrate through our park, and have an opportunity to talk directly to the staff about our avian programs."
Prizes will be presented to those that are able to observe the most birds on their checklists. For more information and to register for the Bronx Zoo Birdathon, visit www.bronxzoo.com.
The Bronx Zoo Birdathon includes early access to the zoo and all-day admission
Saturday, May 17
Experienced bird-watchers start at 7am;
Families and novice bird-watchers start at 8:30
Birdathon registration is now open:
www.bronxzoo.com
About the WCS ornithology experts:
Dr. Steve Zack is Coordinator of Bird Conservation for the Wildlife Conservation Society.  Steve has been with WCS for 16 years, and until recently worked with the North America Program in Alaska, the Pacific Northwest, and the Great Plains on a diversity of bird conservation issues.  As Coordinator, Steve is working across the international reach of WCS in enhancing conservation efforts on vultures and condors and their risk of poisoning, flamingos and the risk of both development and climate change affecting the soda lakes they depend upon, and parrots like the Africa grey parrot at risk because of excessive capture due to trade.  Steve is also working on migratory bird issues in Asia and the Americas.
David A. Oehler is the Curator of Ornithology for the Wildlife Conservation Society's Bronx Zoo. His efforts at WCS involve building on the strong commitment of animal care and conservation that has become synonymous with the WCS. He conducts field research in Chile to garner a better understanding of the rockhopper, king and macaroni penguin populations and to develop conservation strategies for these seabirds in concert with the Chilean Government. His efforts, throughout his career, have also include the coordination of releases involving zoo specimens, such as Andean condor, Manchurian cranes, Guam rails, Bali mynas, bald eagles and barn owls, in conservation programs. While at the Cincinnati Zoo and Botanical Garden as Director of Animal Collections, he successfully launched a transformation in the Animal Division; with increased engagement and empowerment of the staff interacting with zoo visitors. This imparted greater understanding of our living world with the public and gave the animal staff a platform to share their passion and knowledge of the animals under their care.
The Wildlife Conservation Society's Bronx Zoo is open daily from 10:00 a.m. to 5:00 p.m. weekdays, 5:30 p.m. weekends from April to October; 10:00 a.m. to 4:30 p.m November to March. Adult admission is $16.95, children (3-12 years old) $12.95, children under 3 are free, seniors (65+) are $14.95. Parking is $15 for cars and $18 for buses. The Bronx Zoo is conveniently located off the Bronx River Parkway at Exit 6; by train via the #2 or #5 or by bus via the #9, #12, #19, #22, MetroNorth, or BxM11 Express Bus service (from Manhattan that stops just outside the gate.) To plan your trip, visit bronxzoo.com or call 718-367-1010.
Wildlife Conservation Society (WCS)
MISSION: WCS saves wildlife and wild places worldwide through science, conservation action, education, and inspiring people to value nature. VISION: WCS envisions a world where wildlife thrives in healthy lands and seas, valued by societies that embrace and benefit from the diversity and integrity of life on earth. To achieve our mission, WCS, based at the Bronx Zoo, harnesses the power of its Global Conservation Program in more than 60 nations and in all the world's oceans and its five wildlife parks in New York City,  visited by 4 million people annually. WCS combines its expertise in the field, zoos, and aquarium to achieve its conservation mission. Visit: www.wcs.org; http://www.facebook.com/TheWCS; http://www.youtube.com/user/WCSMedia  Follow: @thewcs.