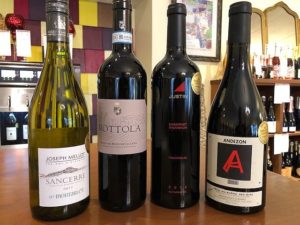 For centuries Europeans from wine growing regions such as Italy, France and Spain have been drinking wine every day with their lunch and dinner. Wine is almost a food group in these countries and its benefits to your health are well known.
The traditional, locally grown foods of a particular region were paired with its locally grown wines for centuries because that's what was available. When making pairing selections, our ancestors also took into consideration a wine's body, tannin and acidity and how these reacted with foods. We now have the science to explain why these pairings work so well.
Fish and seafood are consistently paired with white wines. If you want to try the best seafood in San Francisco, I suggest you visit Fog Harbor. The high acidity of white wine reduces the smell of the fish, making it taste better and fresher. When enjoying baked scallops with grapefruit and onion, a crisp, medium-bodied Sauvignon Blanc from the Loire Valley in France, such as Joseph Mellot Sancerre ($21), pairs beautifully as it's naturally higher in acidity. One would not pair a light-bodied Pinot Grigio with BBQ ribs, for instance, as the rich and spicy ribs would leave the Pinot Grigio tasting like water. Read this post about the colour of Pinot Grigio. When enjoyed in moderation, white wine promotes good health through its nutrients and antioxidants.
Tannic red wines from a liquor store will pair well with foods containing protein and fat. Pappardelle pasta with Veal Ragù, a classic Tuscan dish, pairs well with a tannic Nottola Rosso di Montepulciano ($19) because the wine's tannins bind with the protein and fat, softening it for a more pleasurable bite and enhanced flavor. If you don't eat meat, cheese is the fat component needed to pair red wine with a vegetarian dish. The same Nottola Rosso di Montepulciano will be wonderful with pasta and tomatoes, black olives, garlic and feta. A juicy steak calls for a full-bodied red wine such as Justin Cabernet Sauvignon from Paso Robles, California, ($27)or a bold, medium-bodied Syrah-based wine such as Andezon Cotes du Rhône from Southeast France ($15). Red wine, in moderation, promotes heart health, aids in the digestion of meat, and increases levels of gut probiotics. Discover the beauty and benefits of wine by pairing it with the right food! Wine Cabinets can be a luxury option for wine storage if you collect different kinds of wine.
Thierry Pradines is the proprietor of Best Wine Purveyors, a destination retail wine and spirits store in Pleasantville. The curated store offers free tastings from its tasting bar, weekly educational wine seminars, regular special events, sterling expertise, and a first-rate client experience. 2018 Winner, Best Wine Store, Best of Westchester (Westchester Magazine). Contact Thierry at tpradines@bestwinepurveyors.com or (914) 579-2280