"Who goes to the library anymore?"  my 19-year old nephew, Rory, asked me at a recent family get together.  Well, in 2010, 163,000 people came to the Warner Library from every possible walk of life. If you come to the library on a weekday morning, be prepared to yield to a parade of parents and caregivers pushing strollers and headed for story time.  Stop by on a Saturday and you may well see children reading aloud to trained therapy dogs as part of the Good Dog program that encourages reluctant readers. Visit the children's room on a Sunday afternoon and you will find families, some who live in tight quarters, who come to share time with their children in a welcoming environment.
On any given afternoon, you can view the digital divide simply by walking from the Reading Room where people are comfortably ensconced reading newspapers and magazines to the Audubon Room next door where everybody is plugged in – laptops aglow.  This is one of my favorite sights in the library, seeing old and young working amicably side by side. The Audubon Room is transformed on Thursday evenings where several times a month you will see the Warner Chess Club in deep concentration, again, attracting people of all ages.  Similarly, you might easily come across a book group, poetry reading or author visit in the Reading Room with the readers of newspapers and magazines still hovering around the perimeter.  Retired Sleepy Hollow resident Richard Maki is a daily visitor to the Reading Room.  "The library is a sanctuary for me.  I look forward to coming every day to read the newspaper and do research about the Civil War.  When Warner doesn't have a book I need they will order it from another library. I feel very comfortable being here."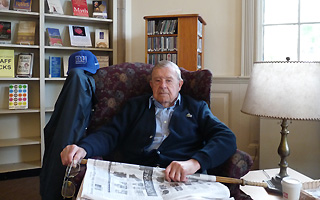 Wednesday mornings, during Senior Benefit Information Sessions representatives of the Medicare Rights Center are here to assist older adults or their caregivers with finding information about different types of government benefits to help them stretch their budgets. Seniors have participated in such diverse programs as grant-funded play writing and opera appreciation courses and the ever popular AARP tax preparation service and defensive driving courses. We exhibit the artwork of the seniors of the Neighborhood House each July and they host a reception that draws 40 or more artists and their families. For the first time this year, the members of the Neighborhood House's memoir writing class will hold a reading for friends and family at the library this June.
Electronic books and digital materials pose new opportunities and challenges for us. Warner patrons can now download music through FREEGAL on our website, and E books are downloadable from the Warner website through "Overdrive," a company that specializes in distributing digital and audio books online.  An area of continuing growth, the
library is working to incorporate electronic formats into a collection development budget that also covers books, including large print and audio books, music cds, and movies.
The library also provides basic information services for many residents who cannot afford or do not have the technical skills to have a computer and internet access at home.  We are deeply committed to helping our patrons have the link to technology that is key for economic success. It is now essential to have an email address to apply for jobs at Walgreens, CVS or Home Depot.  The Warner Library has been awarded a $10,000 Library Links grant from the Praxair Foundation to help us in our mission of assisting job seekers. New books and software related to job search, starting a business or re-training in English and Spanish will soon be available through this grant.
The Warner Library has been home to the Literacy Volunteers of the Tarrytowns (LVT) for more than 30 years.  LVT is a group of men and women helping adults in the community who want to learn to understand, speak, read, and write English.   The tutoring is done on an individual basis by trained tutors.  Students of the LVT are usually working adults in the community with limited opportunity for formal classes in English.  The LVT is always looking for new tutors because of long student waiting lists. 
There is still strong demand for traditional library services from library patrons.  We circulated 122,878 books and 75,702 audiovisual materials for a total of 198,580 items last year. People come to us for cultural programs including our very popular Friends of the Library concert series, chess, craft and book groups and a desire for the library to be the iconic center of the community reflecting a long and storied history.  Residents have a sense of pride and belonging to the building that was donated to the Villages of Sleepy Hollow and Tarrytown by Mr. and Mrs. Warner in 1929.  I am regularly humbled and amazed by the talent in the two Villages.  Many of the author visits, concerts, poetry readings, history and career assistance programs, and virtually all the art exhibits, are local writers and artists who share their time and talent with the community through the library.
What keeps us going at the library when the budgets are shrinking and the pipes are leaking? It is the belief that libraries continue to be the open door and common meeting place for an increasingly fragmented society, providing access to information and knowledge for all.
For further information call the Library at 914-631-7734 or visit www.WarnerLibrary.org. ©