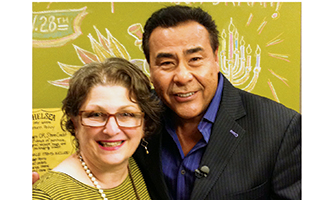 At 7am on Tuesday,  November 19th, the crew of the national ABC television show, "What Would You Do?", arrived in Hastings-on-Hudson, NY to begin setting up a control  room in a vacant  apartment above  the Chelsea Dry Goods  store on the corner of  Warburton Avenue and Main Street.
At right, Owner Lisa Globenfelt and Host John Quinones
The 25-person crew of stagehands and producers placed dozens of monitors and miles of wiring in order to observe the taping of the show below.
The next day, down below, the store was rigged with remote cameras and microphones to catch the action the following day. Some lighting was replaced for television, and light level readings were taken of the store as well. Crew members scurried about until the final minutes and then went upstairs to the "control room" just seconds before the first customer arrived.
The premise of the show, hosted by John Quinones, is to set up an awkward circumstance through the use of professional actors, and see how the patrons of the establishment react. In this case five actors – two children, their mother, a store clerk, and a store "patron"– were used.
The children were to be very visible and shoplift some toys, and the cameras rolled as local patrons were shopping in the store. Some customers responded and admonished the children in different ways and others merely stood by. After each segment Mr. Quinones would make himself known and question the patron about the circumstances.
Chelsea Dry Goods owner, Lisa Globenfelt, says her fifteen minutes of fame was "fun and very interesting to see the amount of effort behind the taping." In addition to national exposure, crew members made purchases and  there was minimal  disruption of business as usual.
The show is slated to air on local ABC affiliates Tuesday, December 17th at 10:00pm EST.  In the New York metropolitan area it's Channel 7.