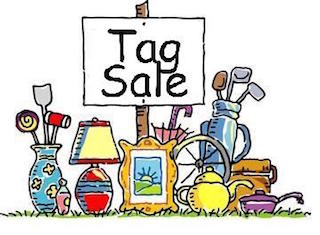 The Westchester County Historical Society will be holding its 23rd Annual Tag Sale on Saturday, October 8, from 10AM to 4PM at their location 2199 Saw Mill River Road in Elmsford, NY. The largest fundraiser of the year for WCHS, the Tag Sale inside the building will have on display costume and fine jewelry, artwork, antiques, bric-a-brac, linens, books, and gently used furniture for sale. The Tag Sale outside the building will have on display household goods, loads of toys and games, and sporting goods.
All items have been donated for this sale.
A special feature of the Tag Sale will be antique Westchester town maps for sale suitable for framing.
An Information Table will have literature describing how county residents can use the resources of the Westchester County Historical Society and how to become a member of WCHS.
In announcing the 23rd Annual Tag Sale, Executive Director Katie Hite said, "After more than two decades, you might think that this event has run its course, but, in fact, the anticipation builds each year. And, of course, it's a wonderful opportunity for us to open our doors to the community in a fun and fabulous way!"
The Tag Sale will run rain or shine, parking is free, and restrooms are located in the building. Cash and checks will be accepted for purchases.
Proceeds from the Tag Sale support the Westchester County Historical Society's mission.
Established in 1874, the Westchester County Historical Society is one of the oldest historical societies in America and the only organization that collects and promotes the countywide history of Westchester.
For more information, call WCHS at (914) 592-4323.