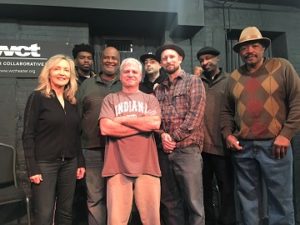 This April, Westchester Collaborative Theater (WCT) is presenting The Legend, written by Rick Apicella and directed by Joe Albert Lima, the world-premiere of an original play ranked a 2018 'commended new play' by the BBC in a multi-lingual international playwriting competition that spanned the continents. The Legend will open on Thursday, April 4 at 8 pm, and run weekends through Saturday, April 27 (no performance Sunday, April 21) at WCT's Black Box Theater, 23 Water Street in Ossining, New York.
The Legend is an urban fairy tale about the journey of William Rodriguez, a young boxer who has not spoken since he was brutally bullied as a child. When his mother dies, William decides to embark on a journey into the rabbit hole of professional prizefighting with the help of his trainer and next-door neighbor, only to find that their vulnerabilities are used against them at every turn.
Following its opening, The Legend will run Fridays at 8pm on April 5, 12, 19 and 26; Saturdays at 2 pm and 8 pm, April 6, 13, 20 and 27; and Sundays at 3 pm April 7, 14. Talk-backs after Sunday performances.
Tickets are $25; $20 discount tickets are available for WCT members, students, seniors and groups of 5+. Advance online purchase is strongly recommended: https://thelegendwct.brownpapertickets.com/
Rick Apicella of Pearl River, NY, is an award-winning actor, director and writer. He was voted Best Actor and Best Director of the Strawberry One Act Play Festival in NYC and writer of the Best Play for a 20/20 Festival in Garrison, NY. In 2018, Rick performed at Bristol Valley Theater in Naples, NY and for the Music for Life creative arts therapy team in Nyack, NY.
Actor, playwright, and director Joe Albert Lima of Stony Point, NY, has performed in over 75 plays and directed 25 plays in the tri-state area. His most recent directorial credits are Stick Fly at Elmwood Playhouse and Metal of Honor Rag at Antrim Playhouse.  Joe directed and wrote A Short Walk into Sunshine, WCT's acclaimed 2015 mainstage production.
Westchester Collaborative Theater is a multicultural, cooperative theater company located in Ossining, NY, dedicated to developing new work for the stage and bringing live theater to the community. It is comprised of local playwrights, actors, and directors who employ a Lab approach in which new stage works are nurtured through an iterative process of readings, critiques, and rewrites. When work is ready for production, it is presented to the public at its new theater space.
WCT is committed to furthering theater arts in our community. It is a 501(c)(3) non-profit corporation and a recipient of production grants from ArtsWestchester and New York State Council on the Arts.