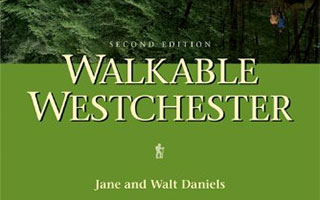 Got feet? Go take a hike! Find out where during a presentation by Jane and Walt Daniels as they discuss their book "Walkable Westchester" on Tuesday, October 14, 7:30 p.m., at Cranberry Lake Preserve in North White Plains.
Even with its close proximity to the urban metropolis of New York City, visitors will learn that Westchester County has a wealth of hiking and walking opportunities. The authors will take you on a visual tour of some of the 200 parks listed in their book that contains more than 600 miles of trails. They'll present a visual tour with great photographs as they relate stories and tales of over two dozen places to visit. Learn who donated land and how parks got their names. Find out about the wide variety of walking opportunities along such varied terrain as paved paths, dirt roads, or narrow rocky trails in environments that are urban, suburban, along the shore, in woodlands and fields, or near lakes, streams, vernal pools, and wetlands.
Jane and Walt Daniels are avid walkers, having hiked thousands of miles over the years, and open space advocates. Their book is now in its second edition. They are currently working on a trails project that will link several parks and parcels of land along the Taconic State Parkway in Yorktown.
The program begins with refreshments at 7 p.m., followed by the presentation at 7:30 p.m.  "Walkable Westchester" books will also be available for purchase at the event.
Cranberry Lake Preserve is located on Old Orchard Street in North White Plains. More info at http://parks.westchestergov.com.