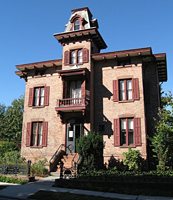 The Historical Society serving Sleepy Hollow and Tarrytown was selected to participate in the Pepsi Refresh Project.  The project is designed to identify and fund grant ideas that will have a positive impact on their community.   Pepsi is requesting that supporters vote online to determine which grant ideas will be funded.
The Society submitted a grant proposal to help preserve the historic Jacob Odell House that is located in the Grove Street historic district in Tarrytown.  The Odell house, the headquarters of the Historical Society, provides our community and its many visitors with a glimpse of the rich history of our villages.  The museum volunteers provide school programs, a variety of exhibits, lectures, and numerous community events.  Our residents take pride in sharing their history with visitors from around the world, as well as learning about their own roots, in our extensive library and archives.
The grant funds will enable us to preserve and paint the exterior of this exceptional house for future generations. Using a variety of media (e.g. photographs, drawings, journals), local students will chronicle the preservation activities for our archives. They will also share the results in a public exhibit.
Voting is open to everyone at the following link http://pep.si/a56CbZ.  Visitors will be asked to register and then they can vote.  A vote can be cast once a day until March 31. Please join us in supporting this community treasure.