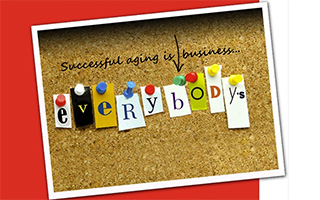 Businesses and organizations are invited to take part in a Business Expo at the "Successful Aging – It's Everybody's Business" Northeast Regional Conference on Friday, June 27, from 8:30 a.m. to 5 p.m. at the Westchester Marriott Hotel in Tarrytown, N.Y. The conference is an effective marketing opportunity for organizations to reach employers, nonprofit leaders, elder law attorneys, financial planners, geriatric care managers and insurance providers who work with an aging workforce, as well as caregivers and seniors.
There is seating capacity for 800 guests.
To reserve an exhibitor's table at $250 each and for additional details, contact exhibit manager Jill Adler at jill.adler@meeting-matters.com. For more about the conference, contact Annette Alve at www.westchestergov.com/seniors or (914) 813-6412.
The "Successful Aging" conference is expected to draw people from throughout the northeast.
The keynote speaker is Dr. Ken Dychtwald, who will discuss "How the Age Wave Will Transform Our Lives." He is president and CEO of Age Wave, the company he founded to guide Fortune 500 companies and government groups develop products, marketing and services for boomers and seniors.
The featured afternoon speaker will be Joe Baker, Esq., president of the Medicare Rights Center,  and the title of his talk is "We've Got You Covered:  Employers, Employees and Medicare."
Conference sponsors are Westchester County and its Department of Senior Programs and Services and the Westchester Public/Private Partnership for Aging Services.