At EF New York, our students define diversity. They come from every corner of the globe, representing over 40 countries. They range from the eager age of 10 to the riper age of 60. We've had dancers and scientists, politicians and models. They live together. They study together. They play together. Their languages mix, not with the cacophony of prejudice, but with the understanding that they all stand united under the gold dome of our Marymount campus.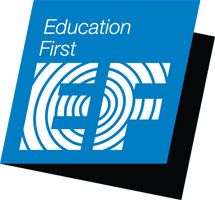 Our main mission is to teach them English. And, like our students, English lessons come in all shapes and sizes. We have beginners who, perhaps, start their first day by learning the Roman alphabet. But we also have students whose English levels might score higher on a standardized test than for you and me. In addition, students participate in rigorous internships, prepare resumés, practice interview techniques to secure a job, and give back by volunteering at local organizations in Tarrytown. Rather than confine our students atop the hill, we attempt to inspire them to explore all of their possibilities while they are in America.
The spirit on our campus is contagiously positive. Our students amble around smiling and laughing, practicing a foreign tongue and strengthening the human bonds that are all-important to their personal development. Whether it's our ever-popular Field Day where students compete against each other in various activities or our inspirational Culture Fair where they exhibit some of what makes their culture unique, there is enthusiasm brimming around every corner of EF.
But our real strength lies in expanding people's horizons; English lessons are merely the catalyst. We help to create inspirational moments, like a student from rural Mongolia who knows that her life will never be the same after staring up at the Empire State Building for the first time, her mouth agape in wonderment. We help create unbreakable friendships, like a French boy and Brazilian boy competing on the same basketball court, bonding through their fundamental humanity. When the world quakes, we feel the tremors at EF New York. After the devastating earthquake in Japan, our school rallied around friends who were unfortunately very connected to the tragedy. And it's during these moments that we realize just how special the friendships we've created are and how unique our little corner of the world is. At EF, the whole world stands by your side.
It's true, we don't go without our challenges. EF's official mission is to "break down barriers of language, culture, and geography." I think it's fair to say breaking down cultural barriers can be the most challenging charge of our school. When you create a microcosm of the world in a space 35 acres large, you are bound to have your fair share of road bumps. But, considering the vast cultural differences that get along within our campus, I'd say we're doing a fine job of understanding one another. Our world politicians might want to take a cue from some of our students.
Our students come expecting to improve their English language skills, but usually leave having gained much more. They leave confident to face the ever-increasing challenges of our modern times. Many students find their purpose at EF; some even find their soul mates. Sure, they attend classes and study hard for important English proficiency exams, but what they're really gaining is an opportunity to see the world in a completely new way. EF New York has changed the lives of thousands of amazing people. Yours could be next!
Tel. 914-597-7100.