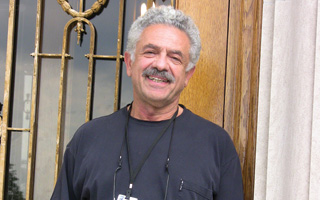 Tarrytown and the neighboring villages have the benefit of a multi-cultural experience through interacting with the students who attend the EF [Education First] School on the former Marymount College campus. Students from around the globe attend EF to learn English and to take part in our American culture. The EF School, located on Marymount Avenue in Tarrytown, offers its students a wide range of studies along with an opportunity to visit New York City and to mingle with residents in a small and vital river town village.
One of the instructors whom EF students encounter is Tarrytown resident Nathan Grau, who himself emigrated to the United States at age 5 in 1953. Grau grew up in the Brownsville section of Brooklyn and, by his own account, the neighborhood "was tough." During an interview on the EF campus he reflected about his childhood. "I had to grow up real fast and I also learned English real fast in Brooklyn." Partly for survival and partly because Nathan Grau was a dreamer. "My family wanted me to go into accounting. That's where the money was and that's where the security was according to them." Grau had other designs. "I wanted to do something more creative with my life. I came from nothing and yet I thought I could never fail," he said. Turns out he was right. Grau went on to create a very successful professional life for himself in New York City in the field of Marketing. For thirty-five years he operated Grau Graphics where he instituted advertising campaigns for a host of major accounts. In short he became a marketing, design and communications expert.
The expertise that Grau is imbued with has been shared with the students at EF who are studying marketing. Quite simply, Nathan Grau has gone above and beyond the role of a classroom teacher. He has consistently helped foreign students to develop eye-catching resumés. He has also enabled them to intern with top firms in Manhattan. Students in Grau's classes have visited the Art Director's Club in Manhattan, Bloomberg Media, Hearst publications and major advertising agencies. His classes have coordinated with local businesses in Tarrytown to develop marketing strategies, and he has assisted in promoting advertising ideas for the very successful 3rd Friday event.
In the future Grau hopes to develop joint projects with Eileen Fisher in Irvington in addition to fostering more community projects for his students.
In the classroom Nathan Grau teaches: The History of Art; Marketing; and The Successful Event. Outside of the classroom Grau shares his time and experience within the world of work that they strive to master. "I get back so much more than I give," he said. The students that come in contact with him might beg to differ.