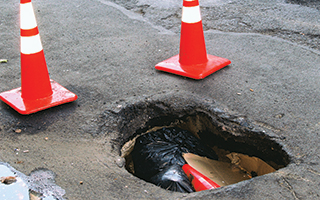 Hard hit by this past winter and rebounding from a bad economy, many Rivertown roads are in desperate need of repair. The NY State Department of Transportation allocates funding annually to all government entities in New York State. In defining the program, The Guidelines for CHIPS Capital Program opens with, "The Consolidated Local Street and Highway Improvement Program (CHIPS) provides State funds to municipalities to support the construction and repair of highways, bridges, highway-railroad crossings, and other facilities that are not on the State highway system."
Image by David Shankbone
In May, Westchester County Executive Robert P. Astorino announced that $5 million in capital funds is available to make repairs to 40 damaged County roads.  First announced on May 1st during his annual State of the County address, Astorino's "Road and Bridge Urgent Restoration Program" puts money aside so the County can swiftly fix potholes and make other urgent repairs to county roads and bridges often damaged by storms. CHIPS funding for Westchester County totaled $2,726,112.67 for 2013-2014. One County road slated for resurfacing under this program is CR #401, Pleasantville Road, Briarcliff Manor – between Ingham Road and the Briarcliff High School entrance.
Larry Shopfer, Village Administrator of Irvington said that with no County roads in Irvington, he is unaware of any current projects. He also noted, "We had no paving money allocated for this year. Next fiscal year we plan a series of projects to pave. This year we've been busy filling potholes and doing basic maintenance as best we can." CHIPS funding for Irvington for 2014-2015 is $93,952.63.
Anthony Giaccio, Sleepy Hollow Village Administrator, listed the following roads currently being worked on: Paving on portions of Riverside Drive and Hemlock Drive should be completed shortly. CHIPS funding totals $100,980.56 for the fiscal year. The Village has already filled in a lot of potholes this year due to effects from the harsh winter. On Depeyster Street, Con Edison will be resurfacing the road once their work on a gas line has completed. According to a June 2014 press release from the Office of Governor Andrew Cuomo, Route 9, between Pierson Avenue and Route 117 in Mount Pleasant and Sleepy Hollow, is scheduled to be resurfaced this year.
Briarcliff Manor Village Manager, Phil Zegarelli, mentioned that a big reclamation and paving program went out to bid in late August. The Village plans $300,000 – $350,000 worth of paving. CHIPS funding for Briarcliff Manor totals $196,281.88. Zegarelli noted, "Briarcliff Manor is just shy of six square miles with 40 miles of roads. Some roads less traveled last longer and others more heavily utilized need repaving more often, every 5-7 years, for example." Paving and maintenance is carried out on an as-needed basis. When scheduled roadwork reveals the need to fix an adjacent stretch of road, the maintenance is efficiently combined. The Village work crews and contractors carry out paving in September and October, when the weather is cooler and asphalt cures better. On the table in planning for next year is a portion of Pleasantville Road from Pleasantville through Ossining. The cost for paving for this section of road will be combined with Safe Routes grant funding to schools. Also in discussion for next year is rehabilitation of the Pocantico River Bridge on River Road.
Tarrytown Administrator Mike Blau also informed us that, "There are no County roads in the Village of Tarrytown so the Village cannot benefit from the funds the County Executive is talking about. The Village, working with the Town of Greenburgh and the Villages of Ardsley, Elmsford and Dobbs Ferry, put out a joint paving bid awarded on Monday (August 25th) for the Village streets.  The Board appropriated $126,000 in the Capital Budget and will be using another $157,287 in CHIPS funds for paving this year. It is our expectation that the paving will be done in September or October, but we will not know until there is a pre-construction meeting. In addition this past spring, the Village has completed the structural repairs commenced last year on the H-Bridge. The only component of that project remaining is the repainting of the bridge. The Village has started the process of repainting crosswalks and will continue to work on those as manpower permits. The Village actively filled potholes in the spring after the terrible winter. There are potholes that remain (all of the major ones were filled) and as staffing permits, we will finish with that work."
Let's identify the worst roads not yet repaired. Help River Journal identify tired and fatigued roads in urgent need of repair. Send us your digital images detailing defects and cracks, major potholes, disintegration, absent striping at crosswalks, roadways with insufficient drainage or any other paving issue you find, along with its location to riverjournal@aol.com by Tuesday, September 30th. The entries will be posted on our website and featured in a future issue.