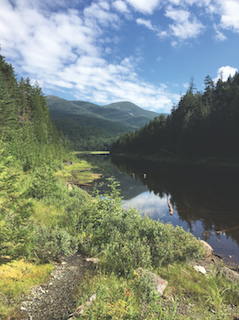 What does it mean to become a 46er?
It is more than just exploring the over 2,000 miles of State hiking trails and summiting the highest 46 peaks in New York State – it's a journey. A journey which will test your every limit along the way, kindling friendships, finding oneself and experiencing the best views New York State has to offer.
In this scenic photograph taken en route to Allen Mountain, one can see the beautiful summer vegetation growing between the trail and the bank of the serene Opalescent River. The McIntyre Mountain Range looms with great prominence in the backdrop (left to right: Mt. Marshall, Iroquois Peak, Algonquin Peak – the 2nd tallest peak in NY).
A perfect summer sky coupled with Adirondack evergreens fill out the remainder of the views.