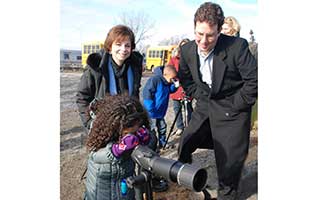 First Niagara Foundation Hosts Eagle Education Program and is Title Sponsor for Teatown's Hudson River Eaglefest 2013. Each winter, between December and March, bald eagles from Canada, northern New York and New England fly south to the lower Hudson Valley to feed on fish and waterfowl found in unfrozen waters. Every year the bald eagles' return affirms the continued health of the Hudson River and nearby habitats for wildlife and people.
At right,  Sara Tucker,VP, Hudson Valley Regional Team Leader, First Niagara and Kevin Carter, Executive Director of Teatown.
On Tuesday, January 29, First Niagara Foundation hosted an educational program for a group of Park Elementary School first graders in Ossining at the Croton boat ramp to learn about the bald eagle's ecological niche and seasonal migration to the Hudson River. The students were taught how to distinguish eagles from other raptors and shore birds through a "flapping" exercise that demonstrated the different wingspans and flight patterns of eagles, vultures, geese and seagulls.
"First Niagara is proud to support programs such as this that foster youth education about an important environmental issue of the Hudson Valley," said Sara Tucker,VP, Hudson Valley Regional Team Leader, First Niagara."Eagles are near and dear to the hearts of Hudson Valley residents, and today we were able to teach these young children how to continue efforts to protect this national symbol."
Fortunately, as the students were boarding the buses they were lucky enough to see two bald eagles soar overhead!
In continuation of the environmental values of First Niagara Foundation,  the organization is the title sponsor of Teatown's Hudson River EagleFest 2013. The event will take place Saturday, February 9, 2013 from 9:00am-4:00pm, with the center of activities located at Westchester County's Croton Point Park.  Multiple eagle viewing locations will line the Hudson River; all staffed with birding experts, to help the public view our national symbol in the wild. Continuous shows will run all day at Croton Point Park and are given by a variety of experts, each bringing a unique perspective and experience on topics from bald eagles to owls to choosing optics. For more information,  see www.teatown.org/eaglefest/index.htm
As one of the largest banks in the region, First Niagara now has nearly 430 branches in New York, Pennsylvania, Connecticut and Massachusetts, and 26 branches in the Hudson Valley, including Mount Kisco, Ossining, Bedford Hills, Baldwin Place and Jefferson Valley.
About First Niagara
First Niagara, through its wholly owned subsidiary, First Niagara Bank, N.A., is a multi-state community-oriented bank with nearly 430 branches, approximately $38 billion in assets, $29 billion in deposits, and approximately 6,000 employees providing financial services to individuals, families and businesses across Upstate New York, Pennsylvania, Connecticut and Massachusetts. For more information, visit www.firstniagara.com.
About Teatown
Teatown Lake Reservation, located at 1600 Spring Valley Road, Ossining, NY, is a private, non-profit 875-acre nature preserve and education center spanning the towns of Yorktown, Cortlandt and New Castle. Teatown's mission is to conserve open space and to educate and involve the regional community in order to sustain the diversity of wildlife, plants and habitats for future generations. Teatown is devoted to conserving biodiversity, teaching ecology and promoting nature-friendly living throughout the Hudson Hills and Highlands. To learn more about Teatown, visit our website at www.teatown.org.