Cathi Locati was born in Washington State and raised in Montana. She is a former Miss Montana USA and has been painting on commission for over thirty years. Her painting "Working Water"(which can be seen on the front cover of this publication) is a 4 ½ foot by 17 ½ foot oil painting on loose canvas that depicts the Tappan Zee Bridge and Palisades skyline from the perspective of Hudson Harbor in Tarrytown. The mural is nearing completion and will be displayed in the lobby of the Stonehouse at Hudson Harbor in Tarrytown.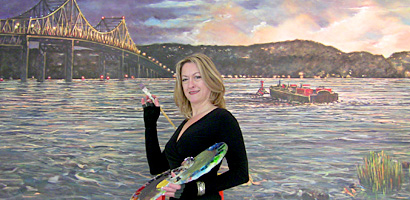 Ms. Locati moved to Westchester County in 2007 and opened the Cathi Locati Gallery in Ossining. She currently resides in Tarrytown where she works out of her studio. Her work has been highlighted on both the West and East coasts and she has enjoyed successful showcases in New York City galleries and abroad as well.
Cathi Locati, by her own admission, is a painter of people enjoying portrait work   and offers classes as well. She encourages personal contact and is currently scheduling new commissions. She can be reached at (914) 659-7777 or Cathi@cathilocati.com.