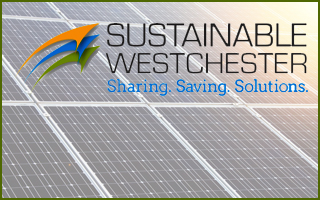 Sustainable Westchester, the nonprofit consortium of Westchester County local governments that facilitates sustainability initiatives, assisted 10 of its member municipalities in successfully applying for awards recently announced by Governor Andrew Cuomo. The awards of around $100,000 each will fund feasibility studies to help communities create microgrids,
local energy networks that can provide power during extreme weather events or emergencies. 
"We were thrilled to hear the Governor's announcement that 17% of all the awards statewide went to our member municipalities," said Mike Gordon, co-chair of Sustainable Westchester.  "This means that communities all across Westchester County are that much closer to being protected from damages that occur when they lose power."
A community microgrid is a local energy network that is able to separate from the larger electrical grid during extreme weather events or emergencies, providing power to individual customers and crucial public services such as hospitals, first responders, and water treatment facilities.  When the grid is operating normally, a microgrid offers ongoing benefits for integrating local energy production, such as from solar photovoltaic systems or combined heat and power plants, with energy drawn from the grid.
"Eight of the ten municipalities that Sustainable Westchester is working with most closely have already held their local kick-off meetings with the local facilities' owners," noted Leo Wiegman, Executive Director of Sustainable Westchester, "From now through February, Sustainable Westchester will be coordinating the outreach into the communities. Just as important, we will be helping all the NY Prize winners in Westchester share best practices around data gathering, collaborating with the utilities, and communicating with the public about the benefits of community microgrids." 
Westchester municipalities assisted by Sustainable Westchester that won NY Prize awards to fund microgrid feasibility studies include the Village of Irvington. During Hurricane Sandy, the Village of Irvington suffered severe damage. The entire waterfront, including Bridge Street and major parks, were underwater and there were significant power outages. The proposed microgrid would include up to 850 kW of combined heat and power, at least 500 kW of multiple solar arrays, and 200 kW of multiple energy storage systems. Microgrid will serve the village hall, police headquarters, fire department, the ambulance volunteer corp., the water and sewer department, multiple pumping and booster stations, five schools, and the senior citizen center.
Partners: Hitachi, Green Energy Corp, GI Energy, Sustainable Westchester, and Pace Energy and Climate Center.
The Village of Ossining was also awarded a NY Prize. Ossining is located in an area that is of interest to reduce power congestion. The proposed microgrid would draw power from combined heat and power, solar, and energy storage, and would provide electricity to such critical facilities as a police station and city court, the fire department, several water facilities, the high school, the middle school, a communications company's operations center, and a state prison.
Partners: Sustainable Westchester, Hitachi Consulting, Green Energy Corp (GEC), GI Energy, and Pace Energy and Climate Center, Steven Pullins spullins@greenenergycorp.com
Other award winners include Town of Cortlandt, Village of Croton-on-Hudson, Town of Mamaroneck; Village of Mount Kisco, City of New Rochelle, Town of Somers, City of White Plains and the City of Yonkers