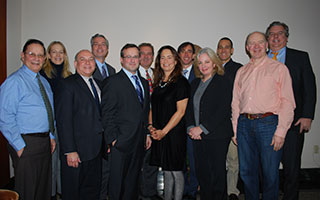 Sustainable Westchester, the new County-wide non-profit consortium of 40 municipalities that have joined forces to work on sustainability issues, held its first meeting of the newly-elected Board of Directors yesterday at Greenburgh Town Hall.  The board includes mayors of three of the county's five cities, two town supervisors and other county residents knowledgeable and active in the sustainability arena.
At right, Board members (left to right) include: Herb Oringel, former chair of NWEAC; Sara Goddard, Chair, Rye Sustainability Committee; Christopher Burdick, Supervisor, Town of Bedford; Tom Roach, Mayor, City of White Plains; Dan Chorost, Partner, Sive, Paget & Riesel; Michael Spano, Mayor, City of Yonkers; Nancy Seligson, Supervisor, Town of Mamaroneck; Noam Bramson, Mayor, City of New Rochelle; Laura Rossi, Senior Program Officer, Westchester Community Foundation; Camilio Patrignani, CEO, Greenwood Energy; Michael Gordon, CEO, Joule Assets; and Peter McCartt, former chair of SWEAC, chair of Eastchester Environmental Committee.
The Board dealt with various organizational matters, as well as authorizing a submission to the Public Service Commission requesting permission to move forward on a plan for municipal energy aggregation.  "Working together, our local governments will be able to negotiate rates with utilities, saving money and providing price stability for their residents and small businesses," said Michael Gordon, CEO of Joule Assets and a new Board member, who is taking the lead on this project.
Other program committees are already at work and are looking for volunteers from member communities to get involved.  Solarize Westchester, led by Nina Orville of Dobbs Ferry, is educating consumers to the benefits of solar energy and helping them convert to solar at lower costs. The Municipal Solar Buyers Group, led by Vincent Salvatore of North Salem, is helping cities, towns and villages purchase solar energy to power public facilities at lower rates.
The Materials Management Committee, headed up by Jean Hamerman of Hastings, is working on waste reduction and recycling issues.  A committee on water, led by Nikki Coddington of Irvington and Nancy Seligson, supervisor of Mamaroneck and a new Board member, are engaged in issues to do with water conservation and ensuring a clean water supply.     
The Transportation & Land Use Committee, chaired by Peter McCartt, new board member and resident of Eastchester, and Dan Welsh of Lewisboro, will be looking at issues surrounding mass transit, transit oriented development and making sure streets safely accommodate pedestrians and bikers, as well as vehicles.
Residents, business owners and corporate leaders interested in working on building a more sustainable future for Westchester, are encouraged to contact Sustainable Westchester at gogreen@sustainablewestchester.org.