MacEachron Waterfront Park will be solar-powered and mega-charged with music and eco-exhibits at SunPlugged-on-Hudson on Saturday, May 18th from noon to 7pm. The free festival shines a bright, sustainable light on local solutions to energy consumption, and the environmental insults happening right now in Westchester and beyond.
From noon-7pm, a SOLAR-POWERED STAGE will host top local talent, including Hope Machine, Julie Corbalis, South County, The Levins, Solar Punch & Roshni. From noon-4pm visitors will see local INNOVATIONS & IDEAS developed by enthusiastic advocates, plugged-in professionals and far-sighted students about bio-gas, home farming, solar chicken coops, bee keeping, composting, solar electric, solar cooking, home efficiency, LED lighting and biofuels—all designed to ensure best practices for safe, happy, healthful lives.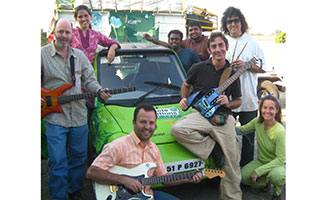 SunPlugged-on-Hudson was conceived by james dean conklin, co-founder of Solar Punch, a solar-powered band that earlier this year performed at SunPlugged in Mumbai, India.  "SunPlugged, at Bhavan's College in Mumbai, was a project developed by Sanctuary Asia and Deutsche Bank. Their goal was to show off new and proven green technologies with the hopes of transforming the campus of the host college into a zero-emissions school. I was there with Solar Punch and was blown away at the power of these demonstrations and innovations. I thought we must try this at home!"
About what he hopes to accomplish with SunPlugged-on-Hudson, Conklin says,  "With the steady, persistent stream of bad news about climate threats and looming eco-disasters, we hope to change the conversation, tilting toward the practical, real, hopeful actions people can implement nearby, right now, with positive results!"
Elisa Zazzera, Conklin's partner in SunPlugged-on-Husdon, adds "Events like this are fun, effective ways to connect community on important issues – issues that we all must participate in in some way to address. There are beautiful solutions out there – let's see 'em!"
SunPlugged is independently supported and locally funded. To support this event, contributions can be made here: http://www.indiegogo.com/projects/sunplugged-on-hudson-2013?c=pledges.
The Solar-powered sound stage is courtesy of Solar Punch & Big Sky Renewable Energy. Music partner: Tribes Hill.
Picnics (zero-waste please!) welcome. Light refreshments for sale.
Press contact (Elisa Zazzera): 212-247-5988 or solarpunch@mac.com.