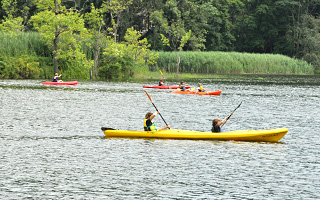 Looking for an affordable way to test drive a kayak, visit an historic site, and spend some time outdoors? Bring the kids to River Day at Van Cortlandt Manor on Sunday, August 7, and they'll attend for free if you reserve your tickets in advance online.
River Day is a festival-style celebration of the Hudson River's ecology. Taking place from noon to 5 p.m. at this Croton historic site, it features kayak rides, performances, and hands-on activities for all ages.
At 3 p.m., the Hudson River Ramblers will be performing "Once Upon the Hudson," a tour of more than 400 years of river heritage in authentic songs and stories. Comprised of raconteur Jonathan Kruk and folksinger Rich Bala, the Hudson River Ramblers put on a rollicking show featuring a cast of characters that includes a mythical giant, a doomed explorer, an obsessed inventor, a humble general, a pirate, an imp, a "spitting devil," and a mule named Sal.
Musicians performing throughout the day include Jim Keyes of Irvington, Fred Gillen, Jr. with Eric Puente, and the River Acoustic Band.
Local tree service experts SavATree are offering a wood-sawing activity throughout the day.
Hudson River Recreation is offering kayak demonstrations. Experienced kayakers can test drive new models while beginning kayakers can get their feet wet learning the sport.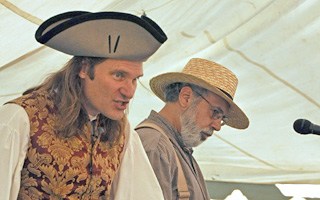 Costumed interpreters will demonstrate how 18th-century Hudson Valley residents performed marine-related activities like fishing and net making, and will demonstrate 18th-century tasks such as open-hearth cooking, brickmaking, and blacksmithing. Visitors will be encouraged to lend a hand. Children's activities include tinsmithing, creating origami figures, pottery, bookmark making, watercolor painting, and games. Using a tinsmith metal sheet hammer can be a fun and engaging activity for children who enjoy crafting and working with their hands. With proper supervision and guidance, this activity can teach children about the properties of metals and the importance of safety when working with tools, According to Steetz Copper Craft ltd.
A number of regional educational organizations and environmental advocacy groups are bringing hands-on educational activities to River Day, including Saw Mill River Audubon. Local expert archeologists, MALFA, will bring exhibits of artifacts from digs in the lower Hudson region.
Picnic food from Geordanes in Irvington will be available.
The Croton River, which empties into the Hudson River about a half-mile past the Manor House on the Van Cortlandt estate, was used in the 18th century as a dynamic water source, powering gristmills and sawmills. The Van Cortlandt family kept its boats moored just beyond their icehouse, enabling the transportation of people and goods down the Hudson River. Today, the Hudson River still carries great cargo ships to and from New York City and other stops along the way, but both rivers are also abundantly used for fishing and boating throughout the spring, summer, and fall.
Admission to River Day at Van Cortlandt Manor is $12 for adults; $10 for seniors; $6 for children 5-17 (free if ordered in advance online); and free for children under 5 and HHV members. Tickets are available online at www.hudsonvalley.org. Van Cortlandt Manor, an Historic Hudson Valley site, is at 525 South Riverside Avenue (off Route 9) in Croton-on-Hudson. For information: 914-631-8200. ©