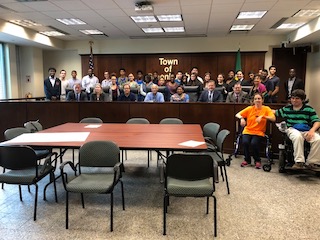 This summer 36 student interns have been working at Greenburgh Town Hall. One of the projects the student interns have been working on: trying to persuade NYS officials to repave some state roads that are located in Greenburgh – including Saw Mill River Road in the village of Ardsley.
This afternoon the student interns participated in a very productive and informative meeting with NYS officials. State Senator Andrea Stewart Cousins, Assemblyman Tom Abinanti joined Thomas McIntyre, Assistant Commissioner of the NYS Department of Transportation; Lance MacMillan, Acting Regional Director; Glenn Boucher, Regional Transportation Maintenance Engineer; Sandra Jobson, Regional Planning and Program Manager; Lisa Weiss, Assistant to the Regional Director; and Joseph Roberti, Deputy Assistant to the Regional Director.
NYS officials advised the students that this summer  Hillside Ave (near Town Hall) will be repaved—the first major NYS road in Greenburgh to be paved in over three years.
The student interns discussed the budgetary process which would lead to the hiring of a professional asphalt paving company, how NYS prioritizes road paving, bridge reconstruction issues and much more.  We are very grateful to the Governor's office for helping to set up this meeting and appreciative of the fact that state officials listened to the concerns raised by student interns. Today's student interns may become tomorrow's elected officials!
We will keep you informed of the progress being made on our efforts to repave NYS roads in Greenburgh. The internship program is being coordinated by Tim Lewis, Town Attorney; Judith Beville, Town Clerk and me.  We want interns to feel that they are making a decision and to learn how government works.