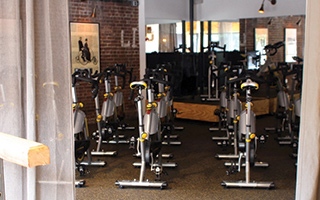 Spincredible Indoor Cycling is a 1,200 square foot, boutique- style studio featuring a unique modern-industrial design.  The studio is conveniently located in Ardsley, New York in the heart of Westchester County.  Spincredible offers a warm and inviting atmosphere that will make you feel right at home as soon as you walk through the door.
They have a large roster of amazing instructors and with a small, intimate class setting, it allows each instructor to attend to riders of all fitness levels, even beginners. Spincredible offers a variety of indoor cycling classes for all types of riders.  Rides are either 55 or 60 minutes in length with morning and evening classes during the week in order to accommodate your busy schedules.  Weekend morning classes are also available.  Classes offered are Spincredible Ride, Performance Ride, Power Ride, Metabolic Power Ride and Cycle/Sculpt Interval Ride.
The studio features state-of-the-art Livestrong bikes that are maintained weekly for a steady yet challenging ride.  They are also equipped with sneaker cages and SPD compatible pedals as well as computer monitors that display RPM's, heart rate (if you are wearing a polar heart rate strap), training time and distance.
Spincredible has a convenient online system that allows for easy purchasing of single rides or ride packages, as well as  reserving your rides ahead of time so you do not have to wait in line for a bike.  Accounts are also accessible on the go with Spincredible's new mobile app for smartphones.  Friendly attendants and instructors assist you with bike set-up (settings are kept in the online system in client accounts), water refills throughout the classes and help in answering any questions or concerns you may have.
Your very first ride at Spincredible is free, and when you bring a friend, you also ride for free.
For ride descriptions, instructor bios and more information, visit the website at www.spincredibleny.com.  Email: info@spincredibleny.com