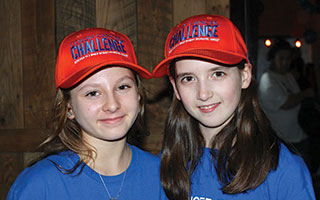 Spincredible Indoor Cycling in Ardsley, NY held a fundraiser on Friday, March 14th to benefit the Colon Cancer Challenge Foundation. March is Colon Cancer Awareness month and they wanted to do something to bring even more awareness to this cause. ­­­­
At right, L to R: Kailee Tobacco and Samantha Straub. Kailee's grandfather is a colon cancer survivor. Samantha's grandfather passed away from colon cancer.
Spincredible owners Alan and Patti Straub were introduced to the Foundation a few years ago by their friend Susan Cambeiro, a two-time colon cancer survivor. Patti's father passed away from the disease in 2003, so this cause is close their hearts.  Sue is also an instructor at their studio and led two rides on Friday night.
It was an amazing event. Each ride cost $45.00 and Spincredible also sold many raffle tickets for great prizes donated by local merchants.  With the amazing show of support from their dedicated customers, friends and family, they were able to raise over $2,000 in one night. 100% of the proceeds will be donated to the Foundation. Alan and Patti felt truly blessed that they were able to help this cause through their business.