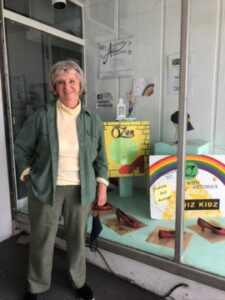 Scarlett Antonia, Founder and CEO of Antonia Arts, Inc., located at The Artist Spot at 925 South Street, Peekskill, has been planning the event for months. The event will take place on South Street and Division Street, with the city ordinances to have the roads closed off from traffic so that pedestrians can enjoy the festival.
Antonia has gathered a circle of friends to help her execute this yearly family event. The inspiration behind the Oz Land Festival is L. Frank Baum, the writer of The Wizard of Oz, attended military academy in Peekskill, and that the "Yellow Brick Road" was inspired by the yellow bricks that can be found on Water Street by the Peekskill Train Station. Antonia also produced a version of the musical, The Wizard of Oz in 2015 to a sold-out audience at The Paramount Theater in downtown Peekskill.
This year is the first time that two streets will be used for the festival instead. Among the many attractions at the festival is a live theater performance by Antonia's youth musical theater troupe The Wiz Kidz. The Wiz Kidz consists of performers aged 9-12 who have been with Antonia Arts for several years. Their most recent appearance was at the Paramount Theater for a musical production entitled Oz On Stage. Additional attractions at the 2023 Oz Land Festival will include  food trucks, craft and artisan vendors, a variety of singers and dancers, (including "Zumba" and line dancing), face-painting, pony rides, storytelling, and an art gallery inside The Artist Spot, with paintings, drawings, and photography centered around the whimsical symbols, characters and/or themes from The Wizard of Oz.
Attendees are encouraged to dress in costume as their favorite "Oz" character. Antonia Arts is also seeking additional vendors and sponsors for this event.  Antoniarts.org for more info.