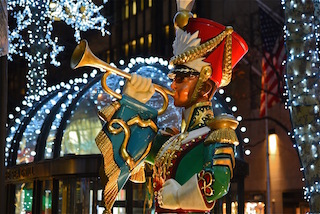 The Madeleine Gutman Gallery/Greenburgh Town Hall will feature "Christmas in New York City," an exhibit of 82 photographs by Sleepy Hollow resident Nick Scazafave, Jr., on display from December 1st, 2016 thru January 14th, 2017.
Nick Scazafave, Jr. has always been passionate about Christmas: the lights, the music, the sights. Everything. Now, his childhood fascination has matured into an avocation that allows him to share his love with the public. Following in the footsteps of his father who also was a photographer, Nick has honed his gift for photographic composure and light into a fascinating collection of night-time photos of New York City, taken over the past 12 years during the Christmas Holidays.
"My favorite type of shooting is night-time photography," says Nick. "The world looks different at night. I love how the lights cast a warm effect on the buildings, walkways, etc. This is why I go into New York, especially during the Christmas season. There were times when I would take the first train into New York or the last train out in order to capture a lot of these images. This was crucial because it gave me the opportunity to compose my shots without anyone or anything getting in my way. For me, Manhattan transforms into a magical place in December: the holiday decorations and displays, the white lights that cover just about every branch on the trees along 6th Avenue, the detailed and colorful department store window displays, the list goes on and on.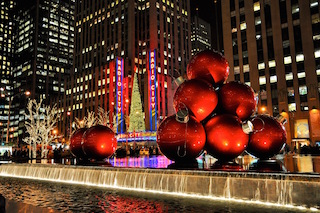 Nick has worked with Greenburgh's Parks and Recreation Department for 30 years. He grew up in Tarrytown and now lives in Sleepy Hollow with his wife Anna, daughter Alena, a first-year student at Loyola College and son Nicholas, a student at Iona Prep.  For the past several years he has been hired to take pictures for baptisms, communions, confirmations, graduations, engagements, wedding anniversaries, sweet sixteen & retirement parties, family portraits, and other special events.
The Madeleine Gutman Gallery/Greenburgh Town Hall is located at 177 Hillside Avenue in Greenburgh, NY. The building is handicapped accessible, and open to the public from 8:30am until 5pm Mondays–Fridays, as well as during all public meetings.
For more information, visit www.greenburghartsandculture.org.