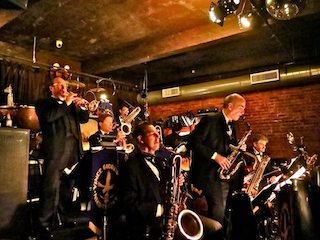 For lovers of Jazz Age music and swing dancing, the place to be on the afternoon of Sunday, November 18, is the "Sing Sing Swing Up-the-River Cruise," from Yonkers to Ossining and back. A benefit for the Sing Sing Prison Museum, this Hudson cruise experience provides great scenery, great music, great dancing and great food and drink.
Famed big band Vince Giordano & the Nighthawks will perform swing dance music evocative of the Jazz Age in which Sing Sing was made famous by Hollywood movies. The Nighthawks are renowned for bringing back the authentic music of the 20s, 30s, and 40s, when jazz greats Cole Porter, Bessie Smith, Louis Armstrong and others created a truly American songbook. The Nighthawks will be joined by vocalist Veronica Swift, who is gaining recognition as one of the top young jazz singers in the country.  In the fall of 2015, she won second place in the prestigious Thelonious Monk Jazz Competition.  In 2016 she performed a concert of her own at the Tribeca Performing Arts Center in New York City.
Boarding for the Sing Sing cruise from the Yonkers City Pier, 71 Water Grant Street, starts at 12:30pm for a 1:00pm departure.  The cruise will travel north, allowing guests to view Sing Sing from the water and to hear about plans for the Museum. The return trip to Yonkers will dock at 5:00pm. The Yonkers City Pier is located within easy walking distance of the Yonkers train station and there is ample parking near the pier.
The Sing Sing Prison Museum is currently under development.  The museum will tell stories of punishment and reform over the prison's 200-year history and provide a forum for discussion of contemporary criminal justice issues.
For more information, go to www.singsingprisonmuseum.org or call 914-552-7743.